TGI Weekend. With fall in full swing, there are plenty of ways to enjoy the season in San Diego this weekend, from pumpkin patches and corn mazes to spooky attractions. If autumn activities aren't your cup of tea, that's ok. You'll also find art, culture, live music, food and craft brews across America's Finest City this weekend. Get up. Get out. Play.
Thursday, Oct. 17
Kids Free San Diego
Throughout October, Locations Vary
There's no better time to be a kid in San Diego than in October. "Kids Free San Diego" presented by the San Diego Tourism Authority runs from Oct. 1 to Oct. 31, an annual promotion offering family-friendly freebies and discounts at 100+ participating attractions, hotels, and restaurants across the city. More than 40 local museums will offer free admission to kids age 12 and under. The San Diego Zoo and SeaWorld are also inviting kids to get in free this month. There's also free food to be had. For details on Kids Free San Diego click here.
'Black Life: Images of Resistance and Resilience in Southern California'
All Day, San Diego Museum of Art's Fleming Sr. Gallery in Balboa Park
On display at Balboa Park now through Dec. 1 is "Black Life: Images of Resistance and Resilience in Southern California," a photo exhibition presented by the San Diego Museum of Art. The exhibition focuses on the works of photographers Harry Adams, Charles Williams, and Guy Crowder, who were prominent members of the African American community in Southern California. The images span 50 years, documenting political events and daily life during the second half of the 20th century, including photos of newsmakers like Muhammad Ali, Sidney Poitier, and Malcolm X. This exhibition is free and open to public viewing; it's located in the San Diego Museum of Art's Fleming Sr. Gallery (Gallery 14/15), located off sculpture court adjacent to Panama 66 at Balboa Park.
Things to Do This Fall in San Diego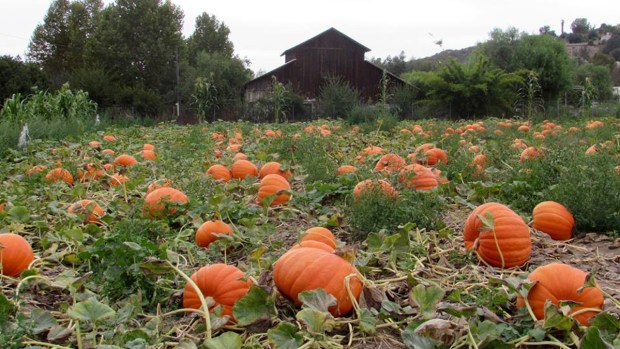 Jail Mini-Museum at The Headquarters
10 a.m. to 9 p.m., The Headquarters at Seaport (between Kitson and Madison San Diego)
The Headquarters at Seaport is a solid place to shop and eat but, if you're a San Diego history buff, you may want to pop into a free mini-museum located at its core, between the Kitson and Madison San Diego stores. There, you'll find a fully-restored, 8-cell jail block housing historical photos and San Diego Police Department memorabilia. You see, The Headquarters – built in 1939 – sits in the very complex that served for many decades as the SDPD's headquarters. The site is listed on The National Register of Historic Places. It was restored and reopened as The Headquarters and Seaport shopping and dining complex in 2013. Read all about the site's rich history here.
North Park Thursday Market
3:30 p.m. to 7:30 p.m., North Park Way & Granada Avenue (North Park)
North Park is known for its interesting small businesses and, on Thursdays year-round, local vendors and artisans are showcased at this popular farmers market located on the corner of North Park Way and 29th Street. On the shopping list: farm-fresh fruits and vegetables, meat, eggs, sauces, bread, and even handcrafted gifts from local, small businesses. The free event also features live music.
Oceanside Sunset Market
5 p.m. to 9 p.m., Main Street Oceanside
Each Thursday, year-round, the Oceanside Sunset Market brings about 200 local merchants together for this sunset marketplace spanning four blocks in downtown Oceanside. Shoppers can expect vendors showcasing homemade goods and tasty grub, plus live music and, of course, an incredible ocean view. The family-friendly weekly event also features Dorothy's KidZone filled with activities for the little ones. The free market is located on Pier View Way, west of Coast Highway. Rain may cancel the event, so check the weather before making your plans.
'Young Frankestein'
8 p.m. (Thursday through Saturday), Cinema Under the Stars
The 1974 Mel Brooks film, "Young Frankenstein," starring Gene Wilder, is set to play this Friday through Sunday at 8 p.m. at Cinema Under the Stars in Mission Hills. Since the theater on Goldfinch Street is outdoors and it can be a bit chilly at night, the venue offers blankets, space heaters and other amenities to keep patrons warm and cozy. Admission is $18 at the box office, or you can reserve your seat in advance for $20.
Friday, Oct. 18
Fall Activities in San Diego
Time and Locations Vary
From pumpkin patches and apple picking to Halloween-style haunted attractions and hockey, there's plenty to do this autumn in San Diego. Get into the spirit of fall with some of these ideas.
SDUSD Art Gallery at Seaport
11 a.m. to 6 p.m. (Friday through Sunday), Seaport Village
Seaport Village and the San Diego Unified School District have joined forces to launch a student-led art gallery located within Seaport Village. The 640-square-foot SDUSD Art Gallery at Seaport is in the easternmost area of the waterfront landmark, closest to the San Diego Convention Center. The gallery will showcase a rotating selection of artwork curated from more than 12,000 San Diego students in Pre-K to 11th grade. The gallery is open each week, Friday through Sunday, from 11 a.m. to 6 p.m. Entry is free.
Shoes & Chews: Carla & Linda's Walking Food Tour
1:30 p.m. to 4:30 p.m., South Oceanside
Oceanside is experiencing a bit of a restaurant renaissance, and these "Shoes & Chews" walking food tours allow you to taste what's cooking in the waterfront city in San Diego's North County. Friday's three-hour foodie tour – led by locals Carla and Linda – will span south Oceanside, with stops at PCH Bar & Grill, URGE, Privateer and Wrench & Rodent. Tickets cost $59 per person (foodies 16+ only) and include tastings of specially chosen items, plus a little history lesson on each restaurant, chef and the surrounding area. Shoes & Chews started in 2015; today, the tour hits the streets of Oceanside every weekend, usually Friday, Saturday and Sunday.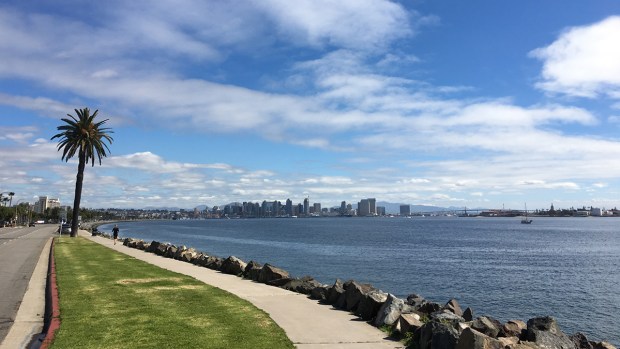 8 Must-See Ocean Views in San Diego
Friday Nights on the Farm
3 p.m. to 8 p.m., Bates Nut Farm
Fall season is in full swing over at Bates Nut Farm in Valley Center. On Friday night, patrons can enjoy live music and food vendors at the farm, in addition to the 2019 Pumpkin Patch. Admission is free; bring money for food, rides, activities, and, of course, pumpkins.
Salsa Under the Stars
6 p.m. to 9 p.m., The Courtyard at The Headquarters at Seaport
Cut a rug under the stars at this free, monthly Salsa dancing session in the courtyard at The Headquarters at Seaport. San Diego music man Manny Cepeda and his orchestra will provide the toe-tapping tunes. No partner or experience is necessary to partake in this fun event.
Stars at West Sycamore
6:30 p.m. to 9:30 p.m., West Sycamore (Mission Trails Regional Park)
Members of the San Diego Astronomy Association will lead this stargazing excursion at Mission Trails Regional Park Friday night, in the West Sycamore area. The group plans to meet in the parking lot at the far east end of Stonebridge Parkway; they'll bring the telescopes. The event is free; cloudy skies and/or rain cancels it.
San Diego's 'Haunted' Attractions
6:30 p.m. to 11 p.m., Mission Valley & Balboa Park
In the mood to be spooked? San Diego's three most recognizable "haunted" attractions are open through the end of this month, offering chills and thrills. Over in Balboa Park, you'll find The Haunted Trail, a mile-long path through a twisted grove of pines with spooky surprises lurking at every turn. There's also a maze component here – "The eXperiment" – which is described as "3,500-square-feet of freak-infested terror." Tickets start at $24.99; The Haunted Trail is open Wednesday through Sunday, usually from 7:30 p.m. to 10:30 p.m., but check the attraction's website as times vary slightly on the weekends. Over in Mission Valley, you'll find The Disturbance, a reimagined world of horror created by the folks from The Haunted Hotel. And, up north at the Del Mar Fairgrounds, you'll find The Scream Zone (open from 7 p.m. to midnight).
San Diego Gulls vs. Stockton Heat
7 p.m., Pechanga Arena San Diego
Are you ready for some hockey? The San Diego Gulls return to the rink for their home opener this Friday night, where they'll square off against the Stockton Heat. Tickets start at $19.
Pretty Poppies: Spring Flowers Bloom at Mission Trails
Hops on the Harbor: Eppig Brewing
7 p.m. to 10 p.m., Flagship Cruises & Events
Enjoy a cruise around the San Diego Bay featuring sights, bites, and craft brews. Every month, Hops on the Harbor highlights a local brewery and, this October, it's the best from Eppig Brewing. This month's Hops on the Harbor menu will feature four 6-ounce tasters of Eppig beers, expertly paired with four courses. For example, Grilled Chicken Penne Pasta with artichoke will be paired with the brewery's Festbier wiesn beer, while Braised Short Ribs with bacon jam are matched with 10:45 to Denver, Eppig Brewing's IPA. The brewery's Rival (a German Amber) and Civility (a San Diego Summer Ale) are also on the menu. The dinner cruise boards at 7 p.m. from 990 North Harbor Dr. and sails past the San Diego skyline, USS Midway, Star of India and other Maritime Museum ships and the Coronado Bay Bridge. Tickets cost $79.50 for adults and $47.70 for children ages 4 to 12; kids 3 and under are free. Reservations are recommended.
Rooftop Cinema Club: 'The Princess Bride'
7 p.m., Manchester Grand Hyatt San Diego
The 1987 classic, "The Princess Bride," will fill the big outdoor movie screen Saturday night on the scenic rooftop at the Manchester Grand Hyatt. The 18+ screening is part of the hotel's ongoing Rooftop Cinema Club – movies shown under the stars, set alongside stunning views of the San Diego skyline. Tickets start at $17; you can self-park in the hotel's garage for four hours for free if you buy food (other than popcorn or candy) or drinks at the Rooftop Cinema Club.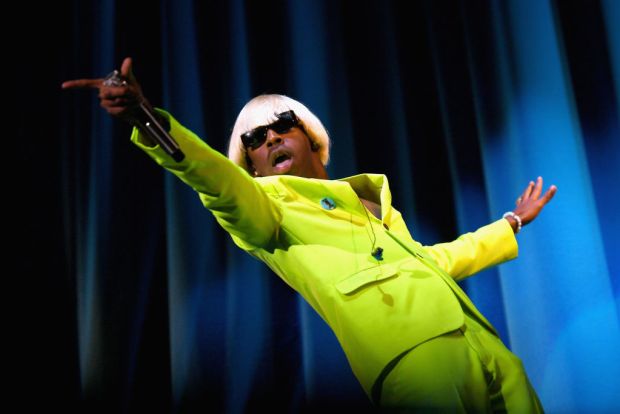 Fall into the Biggest Shows of the Year
Saturday, Oct. 19
Pumpkin Picking
Times and Locations Vary
As we slide into the first weekend of October, it might be a good time to start the hunt for that perfect pumpkin. This time of year, San Diego County is home to lots of pumpkin patches, many of which offer special activities in addition to gorgeous gourds. Use this guide to make your pumpkin patch plans.
Legendary Tour: Hotel Del Coronado
10 a.m., Hotel Del Coronado
San Diego history buffs, this one's for you. The iconic Hotel Del Coronado is currently offering a daily tour at 10 a.m. dubbed the "Legendary Tour," which explores the landmark's rich 130-year-old heritage. Learn about the celebrities, royalty and beach-loving families who have gravitated toward The Del over the decades, and the hotel's most notorious guest, Kate Morgan, who checked into the hotel in 1892 whom some believe never really checked out. The 90-minute tour costs $40 for adults; kids 5 and under can join for free. You must register ahead of time. By the way, The Del is currently undergoing the first phase of a $200 million revitalization project called the "Master Plan." It includes the preservation of historic sites and a new History Gallery. Read all about that here.
Cook With an Italian Chef & Market Tour
11 a.m. to 2 p.m., Little Italy
This weekly event in Little Italy gives you a chance to cook alongside a trained chef while discovering the community's charming open-air farmers "mercato." Here's how the tour works: a chef-guide will walk with you through the market, pointing out local vendors specializing in fresh ingredients. Together, you'll taste-test items and buy what you need to create your meal before heading to the guide's home to partake in a cooking lesson. You'll cook three dishes – an appetizer and two main dishes – and also enjoy a glass of wine and panna cotta for dessert. This cooking tour costs $79 per person and is usually available every Saturday.
Meet the Man Operating the Balboa Park Carousel For The Last 46 Years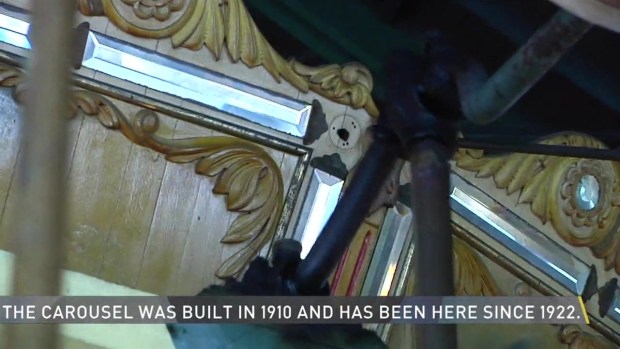 Family Days: Studio by the Bay
2 p.m. to 6 p.m., Seaport Village
Seaport Village – in partnership with The New Children's Museum – debuted a working artist studio earlier this year that showcases the works of two local artists-in-residency. Studio by the Bay also serves as a space for accessible public arts and culture activities, including a series of free, monthly art workshops. One of those workshops takes place this Saturday, from 2 p.m. to 6 p.m., where artists will lead sessions on how to make spooky, glow-in-the-dark art and creepy canvases, in the spirit of Halloween season. Everyone is welcome to join the workshop; Studio by the Bay is located at 809 W. Harbor Dr., at the waterfront landmark.
The Witches of Westgate Tea
2:30 p.m. to 5 p.m., The Westgate Hotel
Downtown San Diego's Westgate Hotel gets into the spirit of Halloween season with its first-ever "Witches Tea." The afternoon tea time is between 2:30 p.m. and 5 p.m. at the hotel's fancy Versailles Ballroom, and includes housemade pastries, savory tiny sandwiches, gourmet teas, kid-friendly beverages, and other treats. Patrons are encouraged to dress in their most bewitching costumes; there will be a costume contest and witch cackling competition. Tickets cost $69 for adults and $40 for kids ages 4 to 12. Kids under 3 get in free with a paying adult.
Things to Do at Balboa Park
Festival of Lights: 12th Annual Diwali Celebrations
4 p.m. to 8:30 p.m., Balboa Park
The San Diego Indian American Society will host the Festival of Lights Saturday at the Organ Pavilion at Balboa Park. The free event will feature dance performances, a lamp-lighting ceremony, a Navaratri dolls exhibition, and other activities highlighting Diwali culture.
Summer Movies in the Park
4:30 p.m., Otay Lakes County Park
San Diego's ongoing, free event, "Summer Movies in the Park," will present another free screening this Saturday, this time the kooky and spooky Michael Keaton classic, "Beetlejuice," playing at Otay Lakes County Park. The event starts at 4:30 p.m. with fall-inspired, pre-movie activities like pumpkin decorating. The movie will start about 15 minutes after sunset. Bring a picnic, a blanket and make nice, carefree evening out of it.
Stand-Up Comedy
7:30 p.m., 9:30 p.m. and 9:45 p.m., American Comedy Co. and The Comedy Store
Looking for a good laugh? Try a stand-up comedy show at two prime San Diego venues: downtown's American Comedy Co. or The Comedy Store in La Jolla. This Saturday night, comic and actor Rory Scovel brings his stand-up act to The American Comedy Co. with 21+ shows at 7:30 p.m. and 9:30 p.m. Tickets cost $25. Meanwhile, over at The Comedy Store, "Workaholics" actor and comedian Erik Griffin will headline 21+ shows at 7:30 p.m. and 9:45 p.m.; those tickets cost $20.
The Capitol Steps
8 p.m., Balboa Theatre
The American political satire comedy group, The Capitol Steps, perform at San Diego's Balboa Theatre Saturday night. The group specializes in song parodies, usually introduced to the audience with a short skit. Tickets start at $31.50.
Mission San Diego Turns 250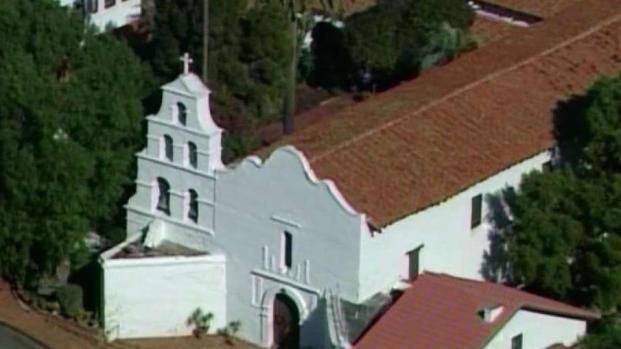 Sunday, Oct. 20
Making Strides Against Breast Cancer Walk
7 a.m., Balboa Park (Corner of Sixth Avenue and Laurel Street)
San Diegans will gather Sunday morning for the annual Making Strides Against Cancer Walk at Balboa Park, a walk to raise funds that support breast cancer research, education, and awareness. The event begins with entertainment and personal stories from cancer survivors and their loved ones at 7 a.m. The walk begins an hour later. NBC 7 and Telemundo 20 will participate in the walk; please say hello if you see us!
Hike at Tecolote Canyon Natural Park (West)
8 a.m. to 11 a.m., Tecolote Canyon Natural Park
This intermediate, 4-mile hike led by "Canyoneers" – volunteers with the San Diego Natural History Museum – will explore the westside of Tecolote Canyon Natural Park. The hike includes an elevation gain/loss of up to 500 feet, and a climb to a high point for a view of the golf course and the University of San Diego. The group will also visit the on-site nature center to check out exhibits about the canyon. The Canyoneers plan to meet at 8 a.m. and return from the trek by 11 a.m.; attendees can park in the Nature or Recreation Center lots, just past the ball fields off SeaWorld Drive/Tecolote Road. As usual, this Canyoneers-led event is free. Learn all about the hiking program, which offers 80 free, guided hikes around San Diego County this season, here.
Yoga + Mimosa Mornings
9 a.m., Windmill Food Hall (Carlsbad)
Enjoy a Sunday morning yoga session at the brand-new Windmill Food Hall in Carlsbad led by a certified instructor. Afterward, 21+ participants can enjoy a mimosa at the foodie-friendly attraction. This class costs $5; bring your own mat.
Seadragons & Seahorses
9 a.m., Birch Aquarium at Scripps
The Birch Aquarium's new, permanent exhibition, "Seadragons & Seahorses," dives into seadragon conservation. At the center of the exhibition is one of the most expansive seadragon habitats in the world: an 18-foot-wide, 9-foot-tall exhibit that holds 5,375 gallons of water. And, there, visitors will find Weedy and Leafy Seadragons, different species of seahorses and pipefish. The exhibition is included with admission into the aquarium, which costs $19.50 for adults and $15 for kids ages 3 to 12.
Guided Nature Walk
9:30 a.m. to 11 a.m., Mission Trails Regional Park
Start your Sunday with a little nature walk at Mission Trails Regional Park. A trail guide will take visitors through one of three trails – the Oak Grove Loop, the Visitor Center Loop or the Riverside Grinding Rocks – while talking about the plants, animals, geology, history, and ecology of the park. These weekly guided walks are free and open to the public and begin at the Visitor Center. Wear sturdy shoes and bring water, a hat, and sunscreen. Rain cancels the walk.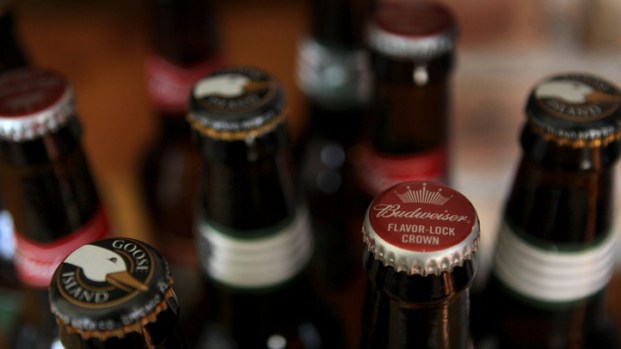 San Diego's Top Breweries
Lane Field Park Market
10 a.m. to 4 p.m., Lane Field Park (Downtown San Diego)
Every Sunday, from 10 a.m. to 4 p.m., a group of vendors sets up shop at Lane Field Park in downtown San Diego for this open-air market focusing on our city's creative food, drinks, art, and craft scene. The family-friendly market typically includes live music, lawn games, pop-up installations, and other lively entertainment. It is located at 1009 N. Harbor Dr., near West Broadway, opposite of the Broadway Pier.
Gaslamp Artisan Market
10 a.m. to 3 p.m., Gaslamp Quarter (Fifth Avenue)
Peruse more than 30 local artisans offering carefully-curated, handmade products at this weekly outdoor market in the Gaslamp Quarter. The Gaslamp Artisan Market sets up shop every Sunday on Fifth Avenue, between Market Street and Island Avenue.
Mac N' Cheese Throwdown
12 p.m. to 3 p.m., Pure Project Balboa Park Tap Room
Craft beer and mac n' cheese? Yes, please! Pure Project hosts its Mac N' Cheese Throwdown Sunday at its tap room in the Balboa Park area (2865 Fifth Ave.). Patrons are welcome to bring a homemade mac n' cheese dish to be enjoyed and judged by fellow mac n' cheese fans. The rules: you must use a Pure Project beer in the recipe, and you must provide your own crockpot or serving dish. Those who want to partake in the competition must drop off their dish by 11:30 a.m. Sunday; those who want to taste and judge in the Mac N' Cheese Throwdown can do so anytime between noon and 3 p.m. Prizes will be given to the crowd favorites, including Pure Project gift cards. The event is free.
Sunday Spreckels Organ Concert
2 p.m., Spreckels Organ Pavilion at Balboa Park
Enjoy a free, hour-long organ concert Sunday at Balboa Park's famed Spreckels Organ Pavilion. At the keys, the audience will typically find Raul Prieto Ramirez, the city's San Diego Civic Organist and Artistic Director of the Spreckels Organ Society. Prieto Ramirez hails from Spain and, as he told NBC 7 last year, hopes to keep the program interesting – from Bach to Queen – at the historic Spreckels Organ. Pets are welcome, and so are picnics.
Plumeria Cutting Class at PIB
3 p.m. to 5 p.m., Pacific Islander Beer Co. in Santee
The Southern California Plumeria Society will host a plumeria cutting class this Sunday at Pacific Islander Beer Co. in Santee (8665 Argent St.). The group plans to share info about growing plumerias and host a sale that evening at the brewery. The event is free.
Free or Cheap Things to Do in San Diego
Times and locations vary

Free or Cheap Things to Do in San Diego
Looking to save some cash, but still enjoy the city? In San Diego, there are still plenty of activities to enjoy for free or on the cheap. Go for a hike at Torrey Pines State Park or Cowles Mountain, stroll Balboa Park, try a new craft brewery, admire the murals of Chicano Park, or read a book at a downtown park. Get out there and explore America's Finest City.
Do you love the weekend in San Diego? Are you looking for things to do? Join our Facebook group, Your San Diego Weekend. We're sharing weekend events, things to do with the whole family, weather, the newest restaurant openings, and more! Click here.