Dozens of tow truck drivers gathered Wednesday to honor the life of a fellow driver who was struck and killed while changing a customer's tire.
Jabar Issa, 48, of El Cajon was killed while helping a stranded motorist early Saturday on eastbound State Route 78 near Nordahl Road in San Marcos.
Issa and a colleague were fixing a flat for the driver of a Nissan pickup truck on the right shoulder of the highway when a Ford F-250 truck drove into the shoulder, according to the California Highway Patrol.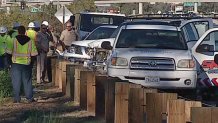 Issa was killed immediately. His co-worker suffered serious injuries and the stranded driver received cuts and scrapes. The Ford F-250 driver wasn't hurt.
When family members and friends gathered at St. Michael's Caldean Catholic Church Wednesday to honor Issa, a row of tow trucks was parked on the street outside.

A convoy of trucks took part in a procession from Escondido along southbound Interstate 15. At the funeral, drivers wore black ribbons on their uniforms.
Co-workers from Sky Towing praised Issa as a good man and a good friend.
"He was a big teddy bear. He was the really nicest person you'd ever meet. A great worker. An awesome, awesome person just to be around," said manager Amir Elias.
A few drivers talked about the inherent danger of the job and asked for the public's help to keep the roads safe.
"We're there to help a customer, we're helping people," said tow truck driver Levan Kina. "So help us too. Please move your lanes. Slow down. That helps save my life, our lives and their life too."
Issa had only been with an employee of Sky Towing for three weeks but co-workers said they knew of him as a part of the larger San Diego tow truck family.
They say in that short time, he made a lasting impression.
Charges were still pending in the investigation, CHP officials said.