It may be a far distance from San Diego to New York City but on New Year's Eve, the massive crowd of revelers in Times Square will get a peek into America's Finest City via a sunny, new ad campaign.
As thousands upon thousands pack Times Square for the New Year's Eve countdown, a newly-revamped tourism commercial for San Diego will play on a huge video board at the corner of 44th and Broadway in NYC.
The ad – part of the San Diego Tourism Authority's newly-revamped "Happiness is Calling" campaign – features photographs of sunny San Diego in all its warm, bright, feel-good glory, from scenic beaches and lush golf courses, to iconic Balboa Park and the "Kiss" statue near the USS Midway Museum.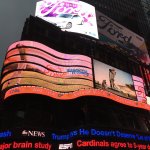 A banner at the bottom of the ad lists important San Diego stats, such as the average temperature (72 degrees), miles of beaches (70), state parks (18) and, perhaps most importantly, the average weight of a burrito (1.2 pounds).
According to the Tourism Authority, the ad is expected to be viewed by more than one million people on New Year's Eve. The ad's debut on Broadway marks the beginning of the Tourism Authority's campaign in the Big Apple.
The San Diego ad will also run in 6,000 NYC taxi cabs.
The Tourism Authority's expanded advertising campaign aims to attract more visitors to San Diego from New York and the East Coast as the city braces for another big tourism year in 2016.
The Tourism Authority says 2015 was a record-breaking year for tourism in San Diego, with a total of 34 million visitors to the region, who spent almost $10 billion and generated $266 million in hotel tax revenue.
[WXPIC] Why We Love San Diego Gallery II