The competition for tech talent is heating up in San Diego. With more corporate giants establishing offices in the area, local companies are having to go the extra mile to attract experienced engineers.
From more traditional benefits such as bonuses and company stock, to more creative plays, such as unlimited paid time off and in-office arcades, companies are doing everything they can to keep up with the Joneses.
"It's gotten significantly more competitive," said Kelly Feest, managing partner of Proven Recruiting, a Sorrento Valley placement agency that specializes in tech, finance and accounting. "Low unemployment — that's being coupled with some of the bigger names that are coming into the space and making a local presence."
Apple's Plans
Local tech giants Qualcomm Inc., Viasat and ServiceNow have had a presence in San Diego since their beginnings. But now, big brands including Amazon, Walmart Labs, and soon, Apple Inc., will compete for the same talent pool. The iPhone-maker plans to hire 1,000 tech workers at its planned site in UTC in the next three years.
Amazon.com Inc. moved into its new San Diego offices last May. The company had 200 local employees at the time, and hoped to grow its headcount to 500.
Nate Wiger, the head of engineering for Amazon Fresh who helped launch its San Diego office, said Amazon had more than 250 people in its offices. The company is still hiring software engineers, managers and technical program managers for its Amazon Fresh and Prime Now businesses.
Taking the Next Step
Wiger said he pitched the idea of opening a San Diego office to leadership after he and his co-workers made the commute daily to Irvine. The two metros were comparable in terms of size, education and cost of living, so he betted on San Diego as another success.
"We knew we were having success with an office in Irvine, so why wouldn't we have similar success with an office in San Diego?" Wiger said.
So far, Wiger said Amazon has been able to pull in local talent, supported by the area's ecosystem of universities and tech companies.
"The feedback we keep getting internally is we're having such great luck hiring and we're so excited that I think we're just going to keep growing," he said. "I do think San Diego as a tech hub is starting to gain awareness. As you look at it, it's been an overlooked market, and people are figuring it out."
Of course, Amazon still has to work to differentiate itself from various tech shops in San Diego. The company said it offers parental leave, company stock and 20 days of paid leave to all of its employees. It also boasts several amenities at its new offices, including a soccer field, restaurant and brewpub onsite.
Similarly, Walmart Labs is also trying to tout its benefits and brand-new offices to attract experienced engineers. The company is looking to boost its headcount to 120 employees at its Carlsbad location.
While Walmart might not be as familiar of a term in the tech community, the company is hiring engineers to build tools that support its grocery and retail businesses.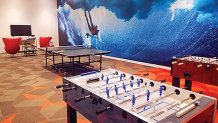 The Compensation Competition
Feest, who helps recruit for Walmart Labs, said the company is able to get dibs on top workers through its progressive stock program, bonus system and competitive base salaries. The company also has an in-office arcade, an onsite gym, and storage racks for surfboards.
"Some companies are trying to match that with soft perks: unlimited PTO, working remotely, lunch in the office or in-office gyms. It's getting them closer," she said. "Unless (a candidate) is absolutely opposed to the commute or really wants to work at a startup, these giants are going to own the candidate because they can. … If you're downtown and don't want to go to Walmart (Labs) and a startup has some of these things, that's what gives them a fighting chance."
Need to Act Fast
For startups to stay competitive, Feest said, they not only have to identify candidates that are a good fit, but they also have to hire them quickly. Companies with long interview processes or that leave candidates in limbo for weeks may find that their prospective hire has already been snapped up by someone else.
From the perspective of a job-seeker, though, Feest said workers are empowered to demand more from their employers and secure pay increases. More tech workers are shuffling between jobs every three years.
In the long-term, the bidding wars will likely tighten. According to a Dec. 12 report by Robert Half, 56 percent of technology leaders in San Diego planned to grow their teams, but 80 percent of them also reported challenges in finding IT talent.
"We're calling out the fact that this market is changing," Feest said. "We're letting companies know that if you don't compete, don't be surprised in a year if it's even harder to find a good candidate."
Additional stories from the San Diego Business Journal are available here. Sign up for their free daily email newsletter.