An Arizona woman on a so-called "booze binge" to San Diego drove her rental car the wrong way on Interstate 5, causing the death of a taxi driver, a prosecutor said at her sentencing Friday.
Amy Marie St. John-Smith, 44, originally faced a murder charge for the April 2014 collision that killed Anteneh Minassie.
The 42-year-old father of three was driving his taxi south on I-5 near Old Town San Diego State Historic Park when he collided with St. John-Smith's vehicle as she drove the wrong way. As he stepped out of his wrecked taxi, Minassie was struck by oncoming cars and died at the scene.
After the crash, St. John-Smith made a U-turn and drove away. She was found in her hotel room with a blood alcohol level at three times the legal limit.
On Friday in a San Diego courtroom, Deputy District Attorney Lucy Yturralde described St. John-Smith's stay in San Diego as a "booze binge."
The defendant started drinking on the flight from Phoenix, according to Yturralde. She rented a car and drove to the store to buy more alcohol, which she consumed in her hotel room before going to a Midway District bar.
At the bar, St. John-Smith became so intoxicated the prosecutor said bartenders allowed her to stay after closing in an attempt to help her "sober up."
Yturralde added that the defendant tried to convince a police officer to drop her off that night at the U.S.-Mexico border so she could have a new life.
Instead of facing a murder trial, St. John-Smith pleaded guilty to four lesser charges ranging from gross vehicular manslaughter to driving under the influence. Before she was sentenced Friday, she tearfully told the court she believes the victim was a hero. She said he saved her life when he tried to warn her not to continue driving the wrong way on the highway.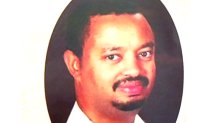 Minassie was an Ethiopian immigrant who worked two jobs to support his wife and three children ages 8, 6, and 4 years old. An engineer in his native country, Minassie worked the graveyard shift for the West Coast cab company and served as a youth minister at his church.
His widow, Sara Tizazu, who was so emotional at times she could barely talk, said she forgave the defendant for the crash that took her husband's life at St John-Smith's sentencing.
She described her husband as "a son, a husband, a brother, a father, a loving and caring sweet soul."
"To hear our children say how much they miss dad every day brings up to the surface my own pain and loss, that I so much try to bury inside of me so I can carry on the task of my new life as a single mom," Tizazu said.
St. John-Smith's defense attorney said she was very remorseful about what happened and claimed she believed Minassie was a hero and died while trying to save her.
"She really wishes she could be the one that was killed instead of Mr. Minassie," said criminal defense attorney William Nimmo.
Nimmo said his client decided to visit San Diego because it was Easter weekend and her former husband was denying her access to her two children.
In his ruling, Judge Louis R. Hanoian said he could not "fix" what had happened in this case for either side. He approved the plea agreement, sentencing St. John-Smith to 17 years, 8 months in prison.