A San Diego taxi driver says he was beaten up by a Navy SEAL. Now, he's filing suit against the SEAL. The taxi driver asked us not to reveal his identity in fear of retaliation.
The driver says he picked up a Navy SEAL and his fiancé from a bar in the Gaslamp and took them to the Hilton Bayfront. He says they paid their fare but as they were getting out of the car, the SEAL punched him.
"I was shocked. I didn't know. I didn't know what to do," said the driver as he describes the assault. "The whole time he was riding with me. I did not have any words with him. We didn't have any conversation. Nothing. He was quiet."
The driver said the SEAL, who told police he was a part of SEAL Team 5, punched the driver's door window, hitting him in the head. As he tried to talk to the SEAL about paying to repair the damage, the driver says, the SEAL punched him again. This punch busted his lip.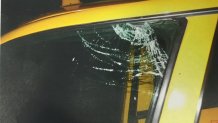 According to the police report, the Navy SEAL said the window broke as he was closing the door. He told police in was "in fear of his life" because the cab driver "looked Middle Eastern, possibly from Iraq or Afghanistan. He also told police he thought the driver was "possibly a Muslim extremist".
The driver is Sikh. He says he's disappointed in the justice system because he came to the United States for equality.
"I came here so I can have justice. I can make my future. I can make my life better and this looks like it's a corruption," the man said. "I feel sad. I thought this place was the best place on the globe."
According the report by San Diego Harbor Police, officers on the scene said it looked like the crack in the window was pushed in an outward direction and appeared as if the impact occurred from inside the driver's seat. The report says the Navy SEAL offered to pay to repair the window but the driver refused and insisted on a citizen's arrest.
The taxi driver's attorney, Dan Gilleon, says the SEAL was initially charged but those charges were dismissed. A restitution check of $140 was sent to the driver from the city attorney's office.
NBC 7 reached out to the city attorney's office and the SEAL's attorney, both had no comment.