A San Diego middle school student says she's feeling confident as she competes against hundreds of other young word wizards this week in the Scripps National Spelling Bee.
"I feel confident. I think I'm not one to give into nerves, so I'm confident I'll do well in round three as long as I know the words," said Oona Flood, an 8th grade student from Earl Warren Middle School.
Flood, a Solana Beach resident, made it through the preliminary rounds Wednesday correctly spelling the words "geoponics" and "xiphias." However, she did not advance to the semi-finals.
Flood said contestants were given many words to study ahead of the rounds Wednesday, so she spent plenty of time brushing up on the vocabulary and preparing for her moment on stage.
The San Diego student said she is grateful for the opportunity to compete.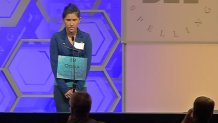 "I'm looking forward to be back up on stage spelling because I really like to spell on stage. I hope I get far so I have the opportunity to spell on stage," she told NBC 7.
Flood earned her place alongside the nation's top spellers by winning the 46th annual UT San Diego Countywide Spelling Bee this past March.
She beat out more than 100 other spelling standouts to win that bee, ultimately climbing to victory by correctly spelling the word "fuliginous."
Now, she's eyeballing the crown at the Scripps National Spelling Bee, hoping to bring the title home to San Diego just as other students have done in the past.
In 2012, Francis Parker School student Snigdha Nandipati, then 14 years old, won the Scripps National Spelling Bee with the word "guetapens."

Nandipati's big win followed in the footsteps of another star speller from the San Diego area who dominated the Scripps National Spelling Bee in 2005. In that competition, Poway student Anurag Kashyap, then 13, won the big bee and later went on to win the "Jeopardy! Teen Tournament."

Besides the competition on stage, Flood said she's most looking forward to attending a special awards banquet for the contestants on Friday so she can have some post-bee fun with the other spellers.
"I really enjoy their company," she said, beaming.
"I have a group of friends [at the spelling bee]. Everyone here is into the same thing; it's great!" she added. "It's a large group of enthusiastic people. Everyone is excited – talking about their favorite languages and stuff. It's really nice."
For fun, Flood said she likes to read, write and study other languages, including Spanish and Arabic. But hanging out with her brother brings her even more joy.
"I also like to joke around with my brother. That's the most fun, I think," said Flood.
The student said she's currently interested in many different fields of study, including psychology and journalism, but has also considered working as an intelligence agent for the CIA or working for the United Nations when she grows up.
"I'm really interested in politics and diplomacy," she added.
The Scripps National Spelling Bee will continue Thursday with the semi-finals and finals. The spellers range in age from 9 to 15 years old, with more than 80 percent between the ages of 12 and 14.
Organizers say 17 spellers speak more than one language and math has been cited most frequently by this bunch as their favorite subject. The spellers' favorite words, among many, include "flibbertigibbet," "onomatopoeia" and "triskaidekaphobia."