U.S. Olympian Caleb Paine battled back to win the medal race in the men's finn event of the 2016 Rio Olympics, securing a bronze medal.
The bronze is the first Olympic medal for U.S. Sailing since the 2008 Games in Beijing.
Paine led at every mark to win Tuesday's race. The gold medal was clinched two days ago by Britain's Giles Scott. Silver went to Vasilij Zbogar of Slovenia.
Paine, from San Diego, entered the medal race Tuesday in fourth place overall, five points back from third. That in itself was no small feat.
The first-time Olympian battled back from an early disqualification in Race 6, submitting evidence that successfully cleared the penalty.
"It's one of those things that it's great that it could be righted and I got the position that I earned," Paine said Sunday.
[Rio2016 - USMedals] Highest Honors: American Medalists at the Rio Olympics
In the end, Paine, 25, didn't let the controversy take the wind out of his sails.
"I've always come from behind and I never stop fighting," he told The The Associated Press.
He proved it Tuesday. He led the race at every mark and crossed the finish line first in the medal race.
"I saw quite a bit of breeze coming down the right side [on the first leg], I hitched out there, and then was continuously playing the right. I just saw the wind, and sailed towards it," he told U.S. Sailing.
[NATL] Celebs in Rio
After scores were tabulated, Paine will bring home the bronze medal for U.S. Sailing.
Britain's Giles Scott clinched the gold medal two days ago. Silver went to Vasilij Zbogar of Slovenia.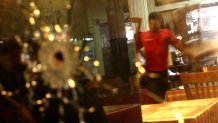 Paine grew up in San Diego and first started sailing through the Southwestern Yacht Club with U.S. Sailing teammate Briana Provancha.
Paine attended Murray Manor Elementary and Parkway Middle School in La Mesa and graduated from Point Loma High School in 2009.
It's an important win for U.S. Sailing. The team failed to medal in London 2012 for the first time since 1936.