A Veteran and former San Diego Police Department (SDPD) homicide detective is getting support from the community after being diagnosed with a rare form of cancer.
The outpouring of support is now making the world of difference for Brett Burkett, 50, who wore the SDPD badge with pride for 25 years.
"It was the drive to catch the bad guy," Burkett said. "It didn't matter to us if it was a little baby in La Jolla or a gangster in Southeast San Diego."
Burkett has a long list of accomplishments. Most recently, working for the District Attorney's office in the family protection division.
Now, he's faced with the biggest challenge of his life. Burkett was diagnosed with Angiosarcoma of the heart last July, an incredibly rare form of cancer where a tumor surrounds the heart.
His will to live is proving to be the best form of medicine.
"I'm thankful I've at least had six months because I don't think with this type of cancer they give you much longer than that," said Burkett.
Burkett's family, his longtime partner at SDPD and countless others have stepped up.
The Padres showed a message of support for Burkett on the Petco Park jumbotron and special #BrettStrong bracelets can be seen on the arms of local law enforcement. Former NFL player Tim Tebow got his hands on one, too.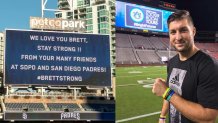 "From day one, we established that he's not fighting alone," Burkett's longtime partner with SDPD, JC Smith said. "There's so many people in his corner that are fighting along with him. If love could cure cancer we wouldn't even be talking about this right now. So many people love him."
A GoFundMe page has been set up to help with costs insurance won't cover.