A San Diego-raised figure skater and his wife have clutched a coveted spot on Team USA and are now bound for the 2018 PyeongChang Games, hoping to break a 30-year drought in their sport for the United States.
U.S. pair Alexa Scimeca Knierim, 26, and Chris Knierim, 30, were poised to make the Olympic team after topping the pairs figure skating program Thursday by 2.17 points, NBC Sports reported. The Knierims have been the top-scoring U.S. pair each of the last four seasons and stood to be named the lone U.S. Olympic pairs team.
On Saturday, with a score of 206.60 at the U.S. Figure Skating Championships, they won the national title and secured their spot on the Olympic team.
The duo lives in Colorado Springs, Colorado. Alexa is from Addison, Illinois, while Chris grew up in Escondido and Ramona in San Diego County. He still has many friends and family in his hometown, and still loves the beach and In N' Out Burger.
NBC 7 spoke with Chris back in November. He recounted the days when, at the age of 12, he would leave middle school early to practice figure skating at the San Diego Ice Arena. He would avoid telling his friends about his newfound passion, fearing they might make fun of him.
Today, he's a confident athlete – in sparkles – and proud of it.
"I'm a man's man but I go and I skate," Chris told NBC 7. "And I wear sparkles – if my wife tells me (to)."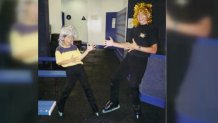 The pair – who have been married since June 26, 2016 – hope to make Olympic history at the 2018 Winter Games; American pairs figure skaters haven't medaled at the Olympics since 1988.
The Knierims told NBC 7 they hope their chemistry, both on and off the ice, gives them an edge over their competitors. The couple spends a lot of time together, skating and just living their married life. They have four pets: two cats and two St. Bernard/Bernese Mountain Dog Mixes.
Chris competed in singles skating for most of his teens and first tried pairs at age 18, according to NBC Olympics. Between 2006 and early 2012, he competed with several different partners. Then, he found Alexa. They told NBC Olympics their attraction was instant.
Months after their wedding, a medical ailment forced Alexa to undergo stomach surgery. The pair missed almost all of the 2016-17 season's competitions but, eventually, made a comeback.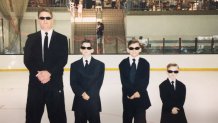 "We're just so happy to be back," Chris said after their first-place finish Saturday. "And with everything that Alexa's been through, it's been a blessing and miracle to even be able to skate."
Alexa sobbed as her husband spoke.
"God is good," she added.
To read more about the Knierims, including a day in their life (what do they eat for breakfast?), click here.