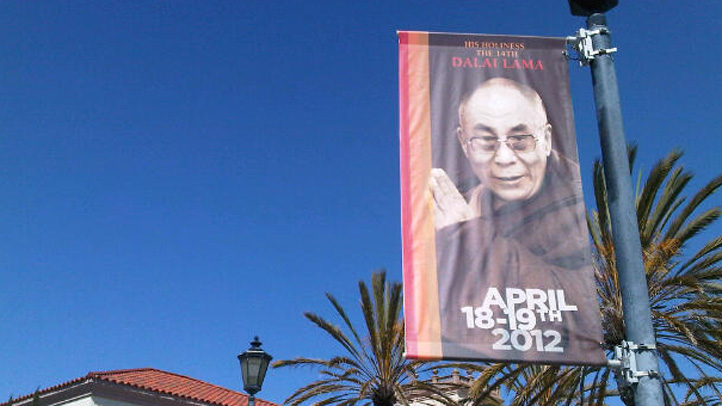 Wearing a UC San Diego visor on his head, the Dalai Lama spoke to thousands Wednesday in his first of several appearances planned in San Diego.
People lined up around the campus hours before the event at the RIMAC Center. The event was a sellout with approximately 2700 tickets selling in less than an hour weeks before the Tibetan spiritual leader's arrival.
His Holiness talked about how modern education seems to be aimed at materialism however, he said it should also focus on ethics and morals for a more holistic view.
"It was really eye opening just how he interacts with everybody and I feel he's like a grandpa to us," one student told NBCSanDiego.
His Holiness arrived at the San Diego International Airport Tuesday afternoon for events at UC San Diego and USD Wednesday and at San Diego State University on Thursday.
An audience of thousands was screened at security checkpoints managed by the U.S. State Department outside RIMAC Center.
"I'm expecting the Dalai Lama to come to campus at USD and talk about how you can truly be a great person," said student Brandon Christopher before the event. "To love everything around you and to be a great person."
Tickets were sold to students for $10 and to faculty, staff and the public for $25. Some tickets were reportedly resold for as much as $300.
"Obviously I know it's a momentous occasion, I won't know how momentous until I actually see him," said USD Sophomore Maggie Wood.
Tenzin Gyatso, the 14th Dalai Lama, is the spiritual leader of Tibet. He traveled to San Diego in a symposium called Compassion Without Borders.
The universities' executives described him as having "compassion for all human beings," a distinguished Nobel Peace Laureate," and a leader who "practices forgiveness and tolerance."
The Dalai Lama will make his first stop at UCSD with a panel discussion on 'The Global Impact of Climate.' He will discuss the universal responsibility in responding to the impacts of global climate change on communities.
The Dalai Lama arrived in San Diego Tuesday afternoon from Honolulu, where the first leg of his latest world tour began.
He told an audience there that he sees signs of hope that China will undertake political reforms in Tibet that will forestall a cultural revolution.
But observers of this 76-year-old spiritual leader say he's starting to turn his thoughts and "religion of kindness" toward all the suffering that stems from the global economic crisis, and measures to extend the viability of life on this planet, said Pam Cesak, Int'l. Campaign for Tibet Board Member.

The Dalai Lama's second talk will be at USD with a topic on 'Cultivating Peace and Justice'.

USD's Executive Vice President and Provost Dr. Julie Sullivan says, "I know we will all learn from him and possibly be transformed by the Dalai Lama's remarks on these issues for our human society."

His final stop in San Diego will be at SDSU in a speech titled 'Upholding Universal Ethics and Compassion in Challenging Times'. SDSU's Provost, Dr. Nancy Marlin, hopes the Dalai Lama's visit will have an impact on her students' lives.

"The world in which are students will be living and working will be increasingly connected globally; it is an essential aspect of university education."
The event at UCSD and USD will be offered as a live web stream and recorded by later broadcast on UCSD-TV.
For updates on the tickets, visit the Dalai Lama's San Diego website.