A San Diego Police sergeant is suing the city and the police department for harassment and retaliation after he complained about a cartoon shown in training.
The lawsuit filed Wednesday alleges Sgt. Arthur Scott was reassigned and passed up for a promotion because he spoke up after seeing what he considered an offensive cartoon at the San Diego Police Museum.
The cartoon was included in the complaint and shows an ape dressed in a San Diego police uniform walking on patrol. In the cartoon, the officer is labeled "Cop McCarter", a reference to Officer Frank McCarter, the first African American police officer in the city.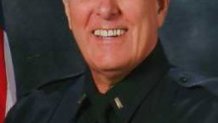 Scott said he saw the cartoon with other officers in an August 2014 training session led by retired SDPD Lieutenant, Tom Giaquinto.
After the training Scott, who is a Vice President for the San Diego Police Black Officers Association, told a supervisor about the cartoon and told him it had no place in police training, according to the complaint.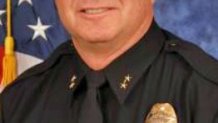 He said he was called into the office of Assistant Chief Todd Jarvis to discuss the cartoon. According to the lawsuit filing, Jarvis told Scott the cartoon would not longer be part of the training session but at the same time tried to defend its use.
Scott claims his "forced transfer" to Central Division on Jan. 7 was a result of the complaint and being an "outspoken member of the SDPBOA."
The suit seeks unspecified damages.
In an emailed statement, San Diego Police Chief Shelley Zimmerman said, "We take these allegations very seriously. We will fully cooperate and support any and all investigations into this matter. At this time, it would be inappropriate for us to comment further on this case since it is in litigation."
SDPD Sgt. Bryan Pendleton was in the same training class as Scott.
He said the cartoon was used in the context of explaining the history of the police department without any consideration on how offensive it may have been to some officers.
"No doubt about it. The depiction of a black man as an ape-like character, that's racist," said Pendleton.
Pendleton, who is also a member of the SDBPAO, said he and the organization support Scott.
"This lawsuit is not simply about a cartoon. There are other issues that will come out throughout this process," he said. "When you take all of those together and compound them, then you'll see clearly that there is an issue."
Pendleton would not go into details.