Warning: This story contains graphic videos and images.
The San Diego Police Department released footage from a deadly Jan. 17 encounter with a murder suspect in Crest on Monday.
Footage from the department's helicopter and responding officers' body-worn cameras show officers opening fire on, and killing, 77-year-old Frank Brower. Bower was a suspect in the deadly stabbing of Mary Ellen Carter, a 66-year-old Lakeside resident who Bower allegedly stabbed at a College Area pharmacy that afternoon.
SDPD said officers responded to a fight at Alvarado Pharmacy on Reservoir Drive, just east of San Diego State University, at around 4 p.m. Officers forced entry into the locked building and found Carter with stab wounds to her upper body, according to SDPD Lt. Steve Shebloski. She was rushed to the hospital but didn't survive.
SDPD's footage of officers' subsequent encounter with Bower includes the department's own summarization of the afternoon's events. In that summary, the department said investigators identified Bower as a suspect in the stabbing soon after it happened, thanks to witnesses who provided them with his truck's license plate.
By 5:38 p.m., the department's helicopter was in Crest, east of El Cajon, hovering over a property identified as Brower's residence, and its camera was recording as Brower was loading things from his shed into his truck. Officers in the helicopter can also be heard giving descriptions and directions to officers on the ground.
By 5:47 p.m., according to the time stamp on the helicopter footage, a formation of officers on the ground had "eyes on" Brower and was approaching him in his yard.
In the body camera footage from Officer Robert Raynor included in the video, officers can be heard yelling at Brower to put his hands up, back away from his truck and stop reaching into it.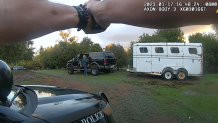 As Brower stands outside of his truck with the driver's-side passenger door open, an officer shout's out "He's got a rifle!" and another can be heard calling out that he sees something in Bower's pocket. Then an officer gives the order to "bean bag him," or to shoot Brower with a non-lethal bean bag round. Brower is shot with two bean bag rounds in the span of about five seconds, both hitting him in what appeared to be his right torso.
After the second shot, Brower's upper body slumps into the rear cabin of the truck. Meanwhile, officers' commands to surrender continue.
As he leans back out of the truck, he's holding onto what SDPD later identified as a shotgun. Within seconds, Officer Raynor can be seen firing at least four shots from a handgun, and another series of shots, which SDPD said were from Officer Salvador Laurel-Torres' rifle, can also be heard.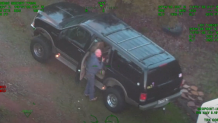 Brower falls to the ground and the footage stopped. Officers gave medical aid to Bower until medics arrived at the property, according to SDPD. They could not keep Brower alive.
Raynor and Laurel-Torres have been taken off of their patrol assignments while the incident is being investigated.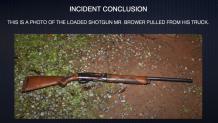 Investigators have determined that Brower and Carter were either co-owners or fellow employees of the pharmacy where Carter was stabbed, according to Lt. Shebloski said. What motivated the fatal assault remained unclear Friday afternoon.
The San Diego County Sheriff's Department is investigating the shooting, per countywide policy. That investigation will be monitored by the U.S. Attorney's Office and the FBI, and will be reviewed by the San Diego County District Attorney's Office.
Carter leaves behind two siblings and her spouse. Her family described her as upbeat, very social, and dedicated to her 40-year career in the pharmaceutical industry, the majority of which she spent at Alvarado Pharmacy.