One week after a Clairemont family thought their Christmas gifts were gone forever, some unexpected elves dressed in San Diego police uniforms pulled together a big holiday surprise.
The first time police arrived at the Cisneros home, it was to investigate a despicable crime. The family was robbed Saturday. Gifts wrapped and already under the tree were torn open and picked through.
San Diego Police Officer Alex Miller said it was heartbreaking.
"They opened everything and what they wanted they took," Miller said of the thieves. "I wasn't going to have it so I did something about it."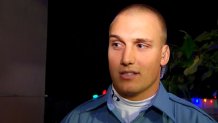 Officer Alex Miller decided that Christmas for 13-year-old Daniel and 9-year-old Aldo and Aylin wasn't going to end up that way.
He reached out to fellow officers and the community for help and found the response to be overwhelming.
So on Tuesday, two nights before Christmas, San Diego Police Officers came bearing gifts – thousands of dollars in toys, and cash as well as tickets to Seaworld San Diego, the San Diego Zoo and Legoland California.
Gracie Cisneros called this her best Christmas ever. To show her gratitude she served up tamales to the officers from San Diego Police Department's Northern Division.
"You have some criminal, some Grinch come in the weekend before Christmas come in and steal all their gifts," said Capt. Jerry Hara. "We refuse for criminals to steal Christmas and it's not going to happen on our watch."