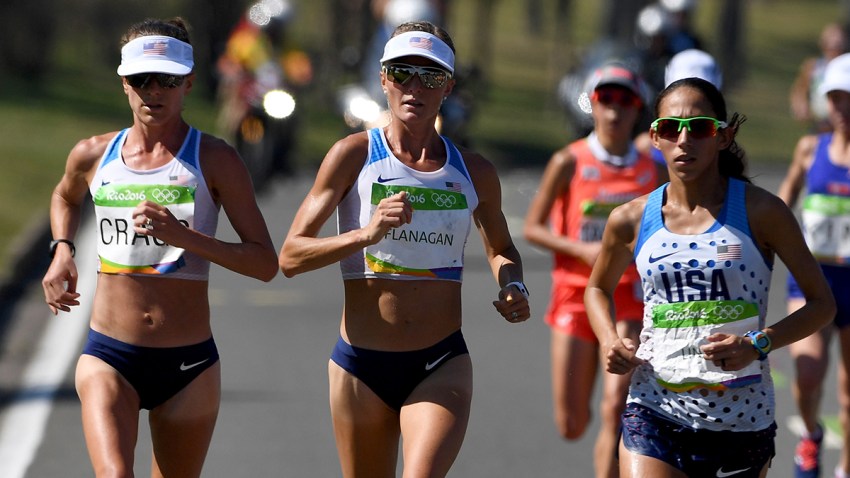 For the first time, three Americans finished in the top 10 of the Olympic women's marathon and all three have ties to San Diego.
The U.S. sent Desiree Linden to Rio, along with best friends Amy Cragg and Shalane Flanagan. Cragg had the best time at U.S. Olympic Trials after competing at the 2012 Olympics in the 10,000m.
Flanagan finished sixth with a time of 2:25:26 with Linden next at seventh with a time of 2:26:08.
Soon after the race, Linden expressed no regrets via Twitter: "We always want a little more but can't be upset when you leave it all out there. All in all a very fun Olympic experience."
Cragg came in ninth with a time of 2:28:25. Read about results here.
The U.S. has not won an Olympic gold medal in the women's marathon since 1984, when the event made its Olympic debut.
Longtime San Diegans will recognize Desiree Linden by her maiden name Desiree Davila. She's had a decorated professional career since her days at Hilltop High School. Earlier this year, she qualified for the Olympic Team by finishing second in the U.S. Olympic Trials.
She and her husband posted a picture from Rio the day before the race.
Cragg and Flanagan are also known to the San Diego running community for their recent times in the Suja Rock 'n' Roll San Diego Half Marathon.
Local sailor Caleb Paine finished in fourth rank overall after coming in 10th in Race 9 and 4th in Race 10.
Paine, who was initially disqualified in Race 6, submitted new evidence and won his appeal. The decision was reversed.
Also competing will be Olympic sailing team Briana Provancha and Annie Haeger in the Women's 470 event. They finished fifth in Race 6 and second in Race 7. They are in second place overall.
Both Provancha and Paine got their starts in the Southwestern Yacht Club in San Diego.
U.S. women's volleyball with local athletes Karsta Lowe and Carli Lloyd faced off against China, pushing through a nail-bitting game. See the results here. Lowe is a Rancho Santa Fe resident and Lloyd is from Bonsall.
U.S. men's water polo with Coronado's Jesse Smith faced Italy following a string of losses, defeating Italy 10-7. Santee athlete Alex Bowen, who has scored several goals for the U.S. during the 2016 Rio Olympics, did not play Sunday. He was disqualified following unsportsmanlike conduct in the loss to Montenegro on Friday.
The U.S. finishes the Rio games 2-3.
Rickey Robertson trained at the Chula Vista Olympic Training Center for the high jump. He will compete at 4:30 p.m. PT.
For updates from the 2016 Rio Games, including profiles of San Diego athletes, visit our Olympics section here.
NBC 7's Steven Luke is reporting from Rio during the 2016 Olympic Summer Games; follow him on Twitter and Facebook for exciting updates from Brazil through the end of the 2016 Olympic Summer Games.