With the 2016 Rio Games in full swing, several San Diego athletes are vying for the gold as they represent Team USA.
On Thursday, athletes with local ties competed in sailing, track cycling and volleyball, among sports.
Today's locals to watch in Rio are:
Temecula native Sarah Hammer, who spent most of her life living there but now resides in Colorado, will take the cycling track at 12:19 p.m. PT at the Rio Olympic Velodrome for qualifying races in the women's team pursuit. She's also set to compete on Aug. 15 in women's omnium. Teammate Jennifer Valente, a San Diego native, will also compete in the women's team pursuit. The track cycling Olympian is a graduate of Southern California's Fusion Academy High School.
Team USA qualified and will take on Australia in the first round on Saturday, August 13.
San Diego native Caleb Paine ranked 7th going into the fifth sailing race Thursday.
In the first competition, he faced 12-foot waves and unsuccessfully tried a fleet split. In the end, he finished in 14th place. However, in Race 6 (his second race of the day) he climbed up to a second-place finish.
Briana Provancha, a 2007 Point Loma High School graduate who grew up at San Diego's Southwestern Yacht Club, sails again Thursday. She ended her first day of competition ranked fifth. In her first race Thursday, Provancha and teammate Annie Haeger chased down five boats and finished in tenth place. In her second race, she finished in second place, according to U.S. Sailing.
Carmel Valley resident Steffen Peters and horse Legolas made a big statement during their Grand Prix performance on Thursday morning, positioning the duo into the No. 3 spot on the leaderboard. The duo's consistent display of balance, rhythm and subtleness in each movement earns them an impressive 77.614 percent.
Steffen is off to a great start in making his fourth Olympic appearance his greatest. The 51-year-old currently holds a team Bronze from his inaugural 1996 Olympic appearance, but is looking to earn his first individual dressage medal and land Team USA a spot on the podium once again.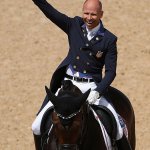 Alpine native David Lee will play Thursday in the men's volleyball tournament (Pool A) against Brazil at 6:35 p.m. PT. The 6-foot-8 athlete's parents still live in San Diego's East County.
How to Watch: U.S. men's volleyball will be live online here.
Lauren Fendrick, a Carlsbad native and Carlsbad High School alumna, was eliminated from medal contention Thursday. She and teammate Brooke Sweat lost to Russia's Ekaterina Birlova and Evgenia Ukolova in three sets: 21-18, 26-24, 15-13. Fendrick and Sweat are first-time Olympians. Read the recap here.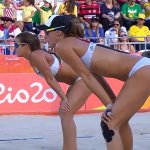 For updates from the 2016 Rio Games, including profiles of San Diego athletes, visit our Olympics section here.
NBC 7's Steven Luke is reporting from Rio during the 2016 Olympic Summer Games; follow him on Twitter and Facebook for exciting updates from Brazil over the next few weeks.