With the 2016 Rio Games in full swing, several San Diego athletes are vying for the Gold as they represent Team USA.
On Monday, local athletes will compete in men's water polo, archery and indoor volleyball.
Today's contenders with ties to San Diego are:
Kerry Simmonds and the U.S. Women's Eight comes into the Rio Olympics on a massive 10-year winning streak. She joined the crew of coxswain Katelin Snyder, Amanda Elmore, two-time Olympic gold-medalist Elle Logan, 2012 champion Meghan Musnicki, Tessa Gobbo, Lauren Schmetterling, Emily Regan, and Amanda Polk as they took on the Netherlands, Romania and Australia in the opening heat, with one crew to advance directly to the Olympic final.

Jessica Javelet: This Torrey Pines High School alum and her teammates, including Fallbrook High School's Richelle Stephens and Chula Vista OTC athlete Jillion Potter, beat Fiji 12-7 and will go on to face France at 2 p.m. PT.
The team's been knocked out of medal contention after weekend matches. They are now competing to determine their final Olympic ranking.

Carli Lloyd: A Bonsall native and Fallbrook High School graduate, Lloyd will compete in Indoor Volleyball at 11 a.m. PT at Maracanazinho in Maracaña.

Karsta Lowe: This indoor volleyball Olympian competes on Team USA today, at 11 a.m. PT from Maracanazinho in Maracaña. Lowe is a Rancho Santa Fe native and graduate of La Costa Canyon High School.
Mackenzie Brown: This Chula Vista OTC resident athlete entered Monday's archery competition ranked fourth in the world. She was upset in an intense set. Watch the recap here.
Alex Bowen: The Santee water polo athlete scored three goals as the U.S. faced Spain early Monday at the Maria Lenk Aquatic Center in Barra. Get results of the match here. He was joined by Jesse Smith, Coronado resident and Coronado High School alumnus.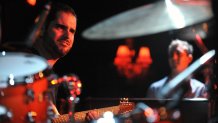 For updates from the 2016 Rio Games, including profiles of San Diego athletes, visit our Olympics section here.
NBC 7's Steven Luke is reporting from Rio during the 2016 Olympic Summer Games; follow him on Twitter and Facebook for exciting updates from Brazil over the next few weeks.