This hits that sweet spot: Nomad Donuts, a cult favorite in San Diego, opens up its newest shop this week in North Park, offering its sweet, globally-influenced treats – and then some.
The doughnut shop, located at 3102 University Ave., debuts Wednesday morning, replacing what used to be the Lady of the Lake bookstore in the cool, quirky neighborhood. The San Diego-based sweets business describes the new space as an "evolved version" of the original Nomad Donuts shop on 30th Street in Normal Heights.
Nomad Donuts is known for its rotating menu of fresh, made-from-scratch doughnuts in both classic and unusual flavor combinations, from maple and chocolate to Charred Blueberry Cream Cheese, Ube Taro Coconut, Strawberry Basil, and Pear Jam Chai Tea. The shop also offers a variety of vegan-friendly doughnuts in creative flavors.
The menu changes daily, and true fans know to place their orders online ahead of time because the shop often sells out.
The new location will boast those beloved daily doughnut menus, plus wood-fired bagels, breakfast and midday sandwiches, and a selection of "Chef's Counter" goodies that include sweet and savory baked good hand-picked by executive pastry chef and co-owner, Kristianna Zabala.
The eatery will also carry its signature Drip Blend coffee and Espresso Blend from Global Coffee Trading. That portion of the menu will be bolstered by limited edition, single origin varietals of coffee, too, and beverages inspired by Australia's trendy coffee culture.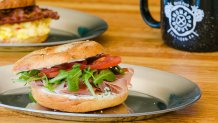 According to the company, the North Park space may one day expand to include chef-crafted bread and croissants, craft beer and wine, and outdoor seating.
Nomad Donuts, co-owned by Zabala and Brad Keiller, first launched in San Diego in November 2014 and quickly became known for its artisanal doughnuts and killer coffee. Zabala, who won the TV competition, "Sugar Showdown," on the Cooking Channel, makes every doughnut and pastry in small batches, using ingredients sourced from local farmers markets such as cage-free, organic eggs.