Thursday is National Taco Day and there may be no better place to celebrate than in San Diego, where influence from our neighbor to the south has allowed for some unique taco concoctions.
So, grab a margarita and chow down on some tacos. Here are some taco day deals around San Diego County to help you celebrate:
Rubio's Coastal Grill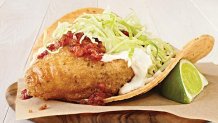 Ralph Rubio, co-founder of the coastal Mexican eatery, says he was the first to bring the fish taco to the good people of San Diego after a trip to Mexico. Whether or not that's true, San Diegans have been enjoying Rubio's original fish taco since the first stand opened in Mission Bay. For National Taco Day, guests can enjoy a free original fish taco with any beverage purchase if you present this coupon when ordering, only at participating locations.
Chronic Tacos Mexican Grill
[[495165521C,C]]
Are you ready for the "taco life?" Just say those two words at Chronic Taco's counter between 11 a.m. and 2 p.m. to get a free taco, excluding their fish, shrimp and steak tacos. Chronic Tacos has two locations in San Diego -- one in Pacific Beach and in Oceanside.
El Pollo Loco
Looking for your fix of chicken tacos? Visit El Pollo Loco and get a free chicken taco al carbon with any regularly priced food or beverage purchase. Just print out or show this coupon to cashier at one of several participating locations across the county. Plus, you can enter for a chance to win free tacos for a year.
Puesto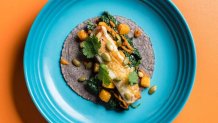 For National Taco Day, Puesto invites its guests to come in and receive a free taco of the month -- a squash and braised greens taco with squash in mojo de ajo, queso enchilada, pumpkin salsa, and cilantro. To get the deal, follow Puesto on Instagram. They have two locations in San Diego, in La Jolla and at the Headquarters at Seaport Village.
Not Not Tacos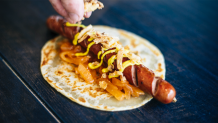 San Diego-based television cooking personality "Sam the Cooking Guy" is the mastermind behind this spot in Little Italy that embraces the taco in an entirely new way. His concoctions include ingredients not typically found in tacos, like meatloaf, salmon and pastrami -- "not, not tacos," he says.
In honor of National Taco Day, Not Not Tacos is adding a new menu item for one day only. The Hot Dog Taco uses NYC hot dog-cart style onions and a simmered hot dog with crispy onions on a flour tortilla.
Do you know of a taco day deal that didn't make our list? Let us know in the comments below.