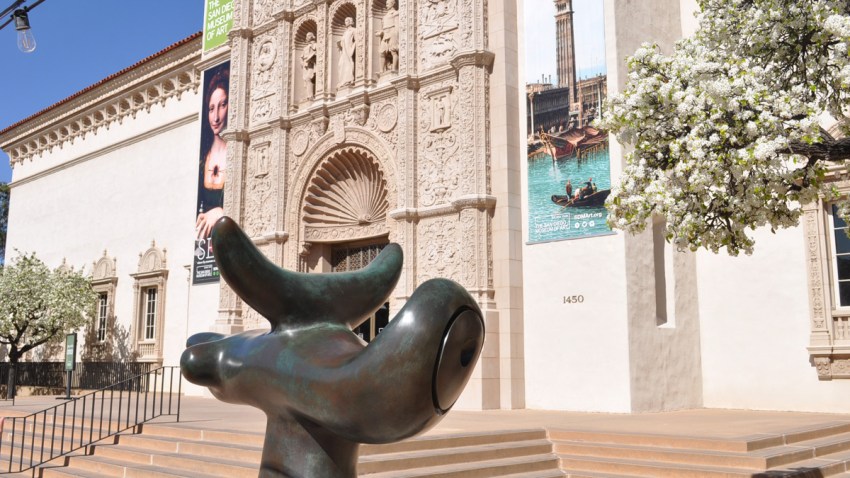 Seven art sculptures once confined to storage are now on public display at Plaza de Panama, the heart of Balboa Park.
The pieces – unveiled by city and museum leaders for the first time Thursday – line the grounds in front of the San Diego Museum of Art. Each sculpture has been painstakingly restored as part of a project long in the works spearheaded by the San Diego Museum of Art.
Together, the sculptures create a free, mini outdoor exhibit dubbed "Art of the Open Air" in a space that, not long ago, housed traffic and cars, not art.
"What was once a parking lot is now an art gallery," said San Diego Councilmember Todd Gloria, referring to Plaza de Panama.
"Plaza de Panama has evolved into a wonderful public space and serves as the perfect stage to connect park patrons to the artwork in the museums," Gloria added at Thursday's unveiling ceremony.
The sculptures were created by world-renowned artists, including Auguste Rodin, Joan Miro, Lynn Chadwick and Tony Rosenthal using various materials such as bronze, painted fiberglass and aluminum. They will be on display 24 hours a day, seven days a week, through at least Feb. 13, 2018.
One of the pieces is a fiberglass piece with an acrylic urethane finish created in 1989 by Luis Jimenez dubbed "Border Crossing/Cruzando el Rio Bravo."
The piece, which towers high above, depicts a migrant family as they struggle to cross the border. A man, head hanging low and eyes closed, carries a woman on his shoulders. The woman carries a crying infant.
Other hard-to-miss pieces include "The Watchers," a bronze sculpture created in 1960 by Lynn Russell Chadwick, and a bright, red aluminum masterpiece, "Odyssey III," created in 1973 by Tony Rosenthal.

"Art of the Open Air" was a collaborative effort between the museum and the City of San Diego.
The San Diego Museum of Art raised more than $250,000 through a crowdfunding campaign known as "#FreetheArt" and other donations to fund the display. The money raised was used towards the restoration of the artwork, installation, security and lighting.
Gloria said the art pieces are an "investment" that add to the beauty and culture of Balboa Park.
"I am grateful to the San Diego Museum of Art for this investment which showcases Balboa Park's ability to shine as a premier institution dedicated to the promotion of arts and culture."
Thursday's grand unveiling was also attended by Roxana Velasquez, executive director of the San Diego Museum of Art, and Dana Springs, executive director of the City of San Diego Commission of Arts and Culture. Velasquez and Springs also touted the collaborative efforts of the project and were proud to introduce old-turned-new art to the public.