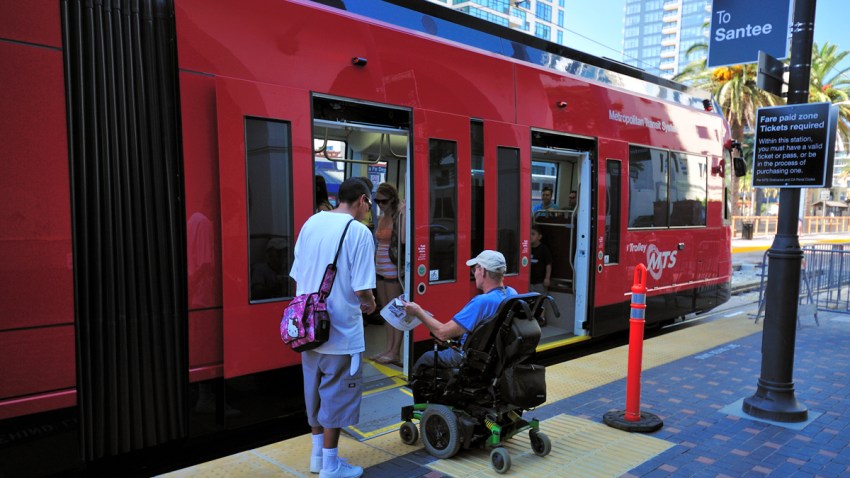 A new ordinance that goes into effect next month could leave riders on the San Diego trolley and buses facing steep fines of up to $100 if they don't give up seats in priority sections to senior citizens and disabled passengers.

The San Diego Metropolitan Transit System (MTS) announced Thursday that it would ramp up wheelchair and priority seating enforcement on trolleys and buses based on a new state law and ordinance amendment approved by the MTS Board of Directors.

The new rule – MTS Ordinance No. 13, which goes into place Feb. 13 – says riders will be fined if they refuse to vacate priority seating on trolleys and buses upon request.

Priority seating sections have been designated for disabled passengers and seniors age 65 and older. If a rider doesn't follow the ordinance, it could result in a citation from MTS and one of three fines: $25 for the first offense; $50 for the second offense; $100 for the third and subsequent offenses.

MTS says all of those fines are also subject to significant court administrative fees.

"This new policy gives our operators and security personnel another tool to help our passengers with limited mobility," said MTS Chief Executive Officer Paul Jablonski in a press release Thursday.

"Previously we were only allowed to request that passengers vacate their seat. We could not enforce or compel a person to move. Now we have that authority."

This move in San Diego was put into motion in October 2015 after Senate Bill 413 was signed into law, giving California transit agencies, including MTS, the enforcement authority to establish a mandatory move policy. The bill, in part, allows transit agencies to enforce, as an infraction, the act of failing to vacate seating on public transit that's designated for the elderly or those with a disability.

In San Diego, all MTS trolleys and buses have multiple areas designated for the disabled and senior citizens. These sections and seats are clearly marked with blue signs. They are located near the entry and exit points of public transit vehicles.

MTS operates 95 bus routes and three trolley lines on 53 miles of double-tracked railway in San Diego County. Each day, MTS says more than 300,000 passengers ride the trolleys or buses. In fiscal year 2015, a record 96.7 million riders used the public transit services.