A Normal Heights father of three is being treated for life-threatening injuries after he was knocked off his motorcycle on May 11.
Friends and family of 29-year-old Gabriel Arredondo spoke exclusively with NBC 7 Wednesday hoping to get the word out about the case.
"He changed lanes and remembers being struck from behind, and he says he flew off the bike and then got run over by the vehicle," said Jose Magdaleno, who is one of the victim's friends.
The crash happened around 6:30 p.m. on westbound State Route 94 near College Avenue, when Arredondo's motorcycle was hit by a Dodge Charger.
At the time, CHP said it was a hit-and-run crash, but on Monday, CHP spokesman Kevin Pearlstein said that classification was a miscommunication on their part.
He told NBC 7 that the driver of the Charger did stop and actually helped direct traffic away from the injured motorcyclist.
When three CHP officers arrived at the scene, there were vehicles pulled over on the shoulder and lanes of traffic blocked by the crash.
"In the midst of the chaos, while clearing the lanes there was a miscommunication between the investigating Officer and an Officer assisting with traffic control and scene management," said Pearlstein in an email. "The driver of the Charger was given a ride to the right shoulder to his vehicle."
The driver was allowed to leave the scene after they got his information. Officers contacted him the next day, and he cooperated with the investigation. No suspicious activity or DUI is suspected.
Magdaleno says Arredondo is stable and talking, although the extent of his injuries are still unclear. He suffered a broken pelvis, a fractured back and half his body is covered in road rash.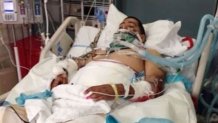 Other friends of Arredondo say this accident it taking a heavy toll on the family. The victim is the main breadwinner for his family. They say he has a big heart and spends his free time volunteering at orphanages in Tijuana.
Arredondo's father didn't want to say much, but had this message, "Thanks to all my son's friends and family. All I want to say also is, all the people who driver motorcycles — be careful."