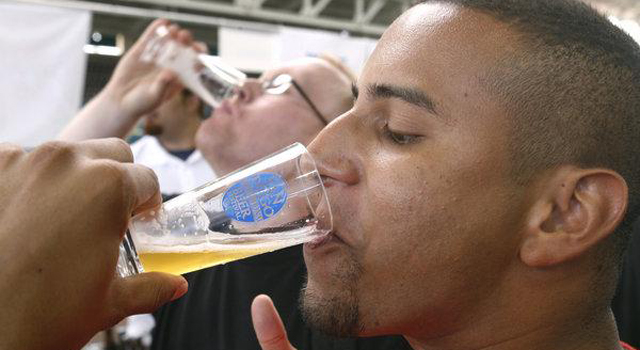 There's no better place than San Diego for a beer festival and this weekend, a massive brew bash is going down at the San Diego County Fair pouring samples of more than 400 beers.

The San Diego International Beer Festival (SDIBF) is happening Friday through Sunday at the Del Mar Fairgrounds. The event is broken up into five different sessions for beer lovers to take part in: Noon to 4 p.m. Friday; 5 p.m. to 9 p.m. Friday; 11a.m. to 3 p.m. Saturday; 4 p.m. to 8 p.m. Saturday; and 1 p.m. to 5 p.m. Sunday.

General admission tickets to each session cost $62 per person. This includes a souvenir tasting glass that can be filled with unlimited 1-ounce samplings during the event, plus admission into the fair.

VIP tickets, at $105 a pop, include unlimited 6-ounce sampling, plus access to a special lounge area and VIP food stations for unlimited grazing for the first two hours of each session. As of 11 a.m. Wednesday, the only VIP tickets left available for purchase were for the Friday sessions and Sunday session.

The hundreds of beers on tap at the fest are from all over the world and include varieties of ale, cider, porter, stout, mead and more.

Local craft breweries will showcase their best brews as well, including Ballast Point Brewing & Spirits, Green Flash Brewing Co., AleSmith Brewing Company and Pizza Port, among many others. To check out the full list of breweries participating in the fest, click here.

Besides a bounty of sudsy samples, the beer festival will also include live, educational demos on the "Beer Stage," including a chocolate and beer pairing demo and a class about pairing beer with cheese. There are also demos on beer and donut pairings, beer and pretzel pairings and beer and tapas pairings. Essentially, beer goes with just about anything.

The fest culminates with the SDIBF Beer Competition in which breweries from all over the world submit their finest creations as they vie for the coveted "Best in Show" and "Champion Brewery" awards.

This marks the 9th year of the SDIBF. Organizers say more than 11,000 beer lovers attended the five-session fest last year.