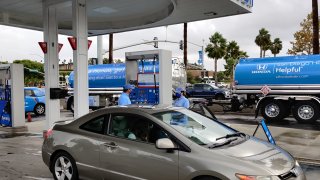 In honor of Veterans Day, and as a thank-you to the brave men and women across San Diego County, San Diego Honda dealers will be pumping free gas for veterans, active-duty military members and Honda drivers beginning Tuesday through Veterans Day on Nov. 11.
The Honda people are rolling out the big, blue tanker truck at various gas stations. To receive free gas, veterans and active military members are to present a valid I.D. All free gas is first come, first served. Wednesday's and Thursday's locations will be announced on those days.
When and Where Can I Get My Free Gas?
Veterans Day:
7-8 a.m., ARCO: 5194 Waring Rd, San Diego, CA 92120
9:30-10:30 a.m., Crown Point VP Auto center, 3804 Ingraham St, San Diego, CA 92109
12-1 p.m., ARCO: 765 E St, Chula Vista, CA 91910  
2:45-3:45 p.m., TOP FUEL:  1295 3rd Avenue Chula Vista CA 91911  
The free gas tanker will continue to greet drivers at the pumps through Thanksgiving weekend, to put money back into residents' pockets as an early gift for the holidays to raise spirits, the group said.