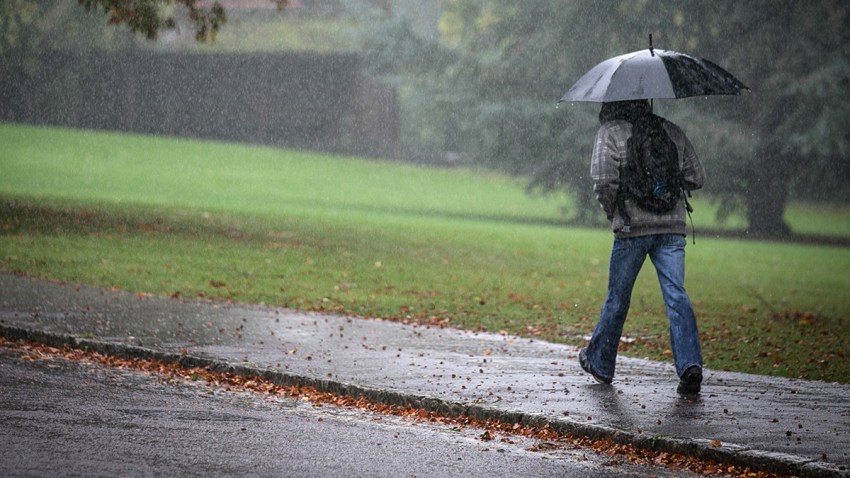 A powerful storm system will bring cooler temperatures, high winds and a good chance of showers to San Diego, beginning Thursday night and through the day Friday.
Northern California was already receiving much needed rain and snow Thursday, while Southern California was under a since-expired dense fog advisory.
This afternoon, clouds will increase and we develop a slight chance of showers.
NBC 7 Meteorologist Jodi Kodesh said we will experience a much bigger change in the weather, as the storm front approaches, sometime closer to 10 p.m.
Showers become likely overnight, with a 60 percent chance through Friday.
"We will notice the winds are really going to be whipping, as the front passes," said Kodesh. "We will be windy across the county, tonight, but especially in the mountains."
A high wind warning has been issued for San Diego mountains and desert foothills, effective at 4 p.m., and lasting through Friday at 7 p.m.
Sustained winds of 25 to 35 mph can be expected, with isolated gusts to 70 mph. This could topple trees or power lines, and will make driving extremely difficult.
Tonight, and Friday morning, there is a chance of mainly light showers. After 10 a.m. Friday, there is a chance of thunderstorms, which could produce heavier rainfall and even small hail.
"The storm will clear quickly, Friday evening, paving the way for a mostly sunny (but still cool) weekend," Kodesh said. "Late Sunday night, and into Monday and Tuesday, we have another shot at some rain."
All of the action in the Pacific, has caused abnormally high waves and strong rip currents.
A high surf warning is in effect until 4 p.m. Sunday.
Surf as high as 5 to 9-feet is expected with sets of 10 to 12-feet south of Oceanside. The highest surf will be Friday afternoon through Saturday morning.
A coastal flood advisory is in effect from 3 a.m. Friday, to noon Sunday. Low lying areas along the immediate coast, may experience flooding. This includes Imperial Beach, south Mission Beach, La Jolla Shores, Cardiff and Oceanside.