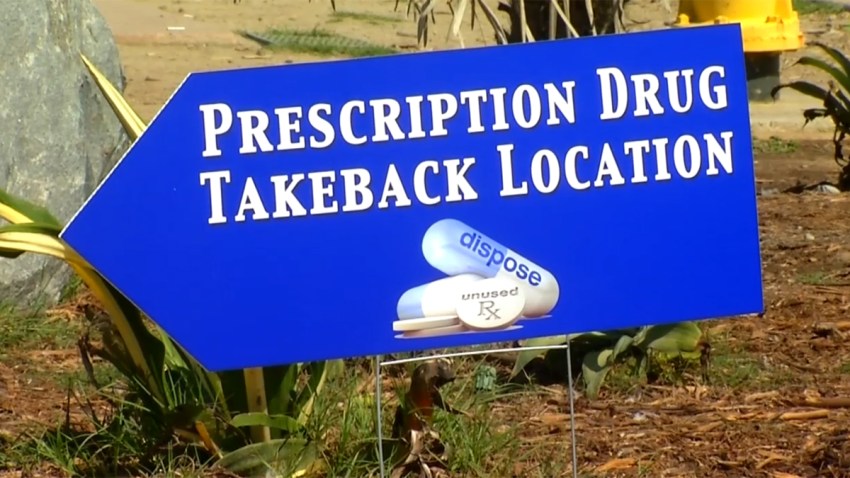 San Diego residents got a chance to get rid of their unused prescription drugs Saturday as the U.S. Drug Enforcement Administration (DEA) held its 9th annual National Prescription Takeback event.
Locally, the four-hour event was held across 41 locations in the county, including Mission Beach, the Alpine Sheriff's Station, Scripps Encinitas Hospital, Castle Park High School in Chula Vista and the Coronado Police Station, among many participating locations.
The service was free and anonymous, and gave residents the opportunity to dispose of their unused, unwanted or expired prescription drugs, no questions asked.
Resident Carol Knott showed up to one of the takeback locations with a bag of prescriptions to turn in. She said the pills were from a period when her husband was ill and was being prescribed numerous different medications.
Knott was relieved to know they would be disposed of properly by officials.
Thomas Lenox, Special Agent with the DEA, said the event was designed to provide a helpful service to the public and prevent the drugs from getting into the wrong hands or winding up in our landfills.
"It's important that people get their prescription drugs to us so we can properly dispose of them and destroy them in a safe, environmental manner," Lenox told NBC 7.
He said flushing prescription drugs down the toilet isn't recommended, as they can get into the water supply this way. Also, he said dumping the drugs in landfills is discouraged because they can disintegrate and get into environment.
Lenox said San Diegans have been very responsive to the DEA's Prescription Takeback events year after year. Typically, he said 10,000 pounds of drugs are turned in per event in San Diego alone.
Lenox said Saturday's event may be the last one sponsored by the DEA.
"There are new federal regulations that have just recently come out to provide retail pharmacies the chance to give this service to their customers," Lenox explained.
He said clinics, hospitals and other facilities will also provide collection bins in the future for unwanted prescription drugs.
In the past eight years, the DEA's Prescription Takeback event has collected more than 2,000 tons of drugs across the United States.