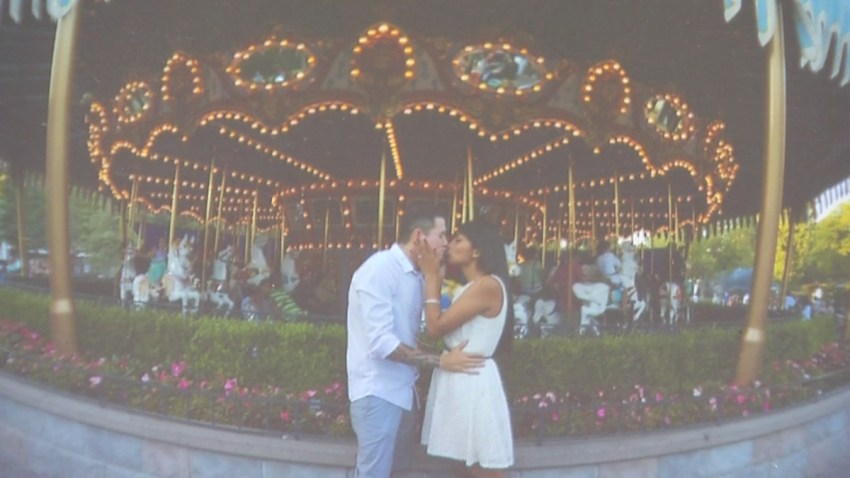 Not many people can say they got secretly married in Disneyland's Sleeping Beauty Castle.
But for San Diego's Gabriel and Andrea Estrada, two Disney fans, their dream became a reality.
Following news that an Oakland couple had gotten secretly married at Disneyland, the couple contacted NBC7 to share their story.
Two years ago, Gabriel and Andrea had been saving up for their dream wedding at Disneyland. However, when they began looking for wedding options at the park, the couple said that the cheapest option was $12,000.
Instead, they decided to spend their savings on a house.
"We're going to invest all our money into this house," said Gabriel, recalling their decision making process. "But what would be the ideal wedding be for us still? And I thought, it was just – Disneyland."
So Gabriel and Andrea decided to have a secret wedding at Disneyland.
The couple gathered Gabriel's oldest daughter, an ordained minister, a witness and packed their bags, heading to Disneyland for what they called a "guerilla-style wedding."
"We went underneath the castle, we set up a secret camera and we did the whole ceremony," said Gabriel. "We exchanged rings, we said I do's and the whole process took maybe 10 minutes max."
The couple said they wanted to be as secretive as possible so as not to get kicked out. They skipped the tuxedo and wedding dress and came dressed in more casual clothes for the event.
"It was a big thrill, you know, to do it secretly," Gabriel said. "We took a couple pictures afterward and enjoyed the rest of the day at Disneyland."
Disney representatives did not immediately reply with a comment about the Estrada's story.
The wedding was a dream come true for the Estradas because they are lifelong fans of all things Disney.
In the end, the wedding cost the couple very little, as they were season pass holders.
"We were nervous, we were looking around to make sure we didn't get kicked out or anything," Gabriel said. "But it worked out and it was fun and memorable and not a lot of people can say they got married inside the Disney castle."