Mike and Jackie DiMaggio of San Diego celebrated 70 years of marriage Friday with a cake, a kiss and some advice.
A happy marriage is simple, according to Mike.
"I do everything she tells me to do," he said.
The DiMaggio's are regulars at the Balboa Park Senior Lounge at Casa Del Prado where staffers held a special party for the couple.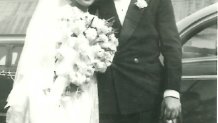 The two met on a Greyhound bus traveling to San Pedro in 1946. As Mike tells it, Jackie's sister was engaged to his brother who was being discharged from the U.S. Navy.
He remembers she was a "nice-looking woman." Mike was very handsome, she recalled.
The two married in 1947 and lived in "a tiny shack" next to Filippi's. Their old neighborhood is now a parking lot.
Three kids, seven grandchildren and 11 great-great grandchildren later they still do everything together.
"Once in a while we argue," he said. "We never fight."
On this day, Mike did most of the talking to the television cameras lined up in the lounge.
Jackie chimed in to say "I love him."
"He's been my life," she said while touching his arm.
The small gathering applauded after the couple enjoyed a kiss and a piece of cake.
Then, there was the special gift wrapped in pink tissue paper. Inside the box, fur-lined handcuffs.
The 92 year olds got quite a laugh out of that.
They may be old but they're still romantic, they said.
The DiMaggio's will celebrate their 70th anniversary with family in July.
Volunteers run the Senior Lounge to give local seniors a place to socialize. It's open from 9:30 a.m. to 3 p.m. seven days a week.