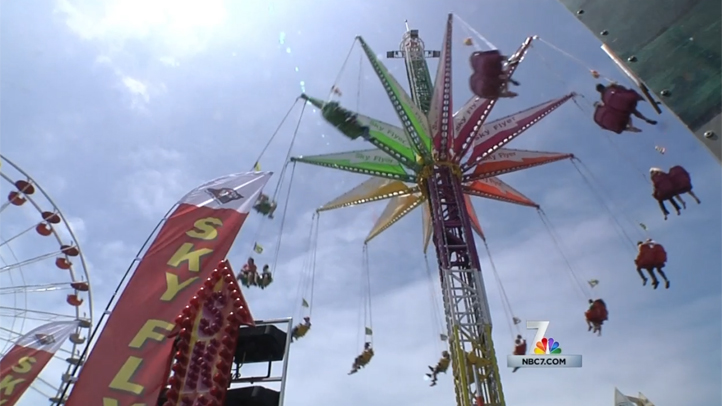 The San Diego County Fair will be back at the Del Mar Fairgrounds starting June 2 through July 4. This year the fair will embrace the wild, Wild West. There will be a Toyota Summer Concert Series, wine festival, beer festival, wood working and agricultural attractions, rides and a fine art exhibit.
You can either buy your tickets online or at the Del Mar Fairgrounds Box Office at the O'Brien Gate. For fair mega-fans, you may buy the Best Pass Ever, which is a season pass that is valid all 26 days of the fair for just $26. The fair has many fun rides and activities in the Fun Zone and Kids Zone, and Pay-One- Price Ride Days allow you to ride as many rides as you want for only $38 on select Wednesdays and Thursdays.
With the purchase of a San Diego Country Fair ticket, you get free admission to the live musical performances put on by the Toyota Summer Concert Series, with performances by artists such as Lauren Alaina and Sundance Head, Aleo Blacc, Toby Keith, Switchfoot, and many more. You may also purchase a seat-specific ticket for the concerts if you wish to have a reserved seat. Stand-up comedian and host of The Daily Show, Trevor Noah, will be performing at the fair grounds on June 27 at 7:30 P.M.
Festivals and special events will also be taking place at the fair. From June 16 – June 18, the San Diego International Beer Festival will hold the largest beer festival on the west coast.
General admission (GA) tickets are $55 or $65, depending on the session you would like to attend. GA includes admission to the beer festival, unlimited 1-ounce samplings with your souvenir tasting glass, and admission to the San Diego County Fair. For the extreme beer lovers, you may purchase a VIP Lounge ticket for $100, which includes unlimited 6-ounce samplings, special lounge areas and VIP food stations.
If you are someone that enjoys contests and competitions, the fair will have events such as floral design contests, trivia contests and Battle of the Bands. For those looking for fun contests to participate in, you might try your hand at corn husking, watermelon seed spitting, best animal noises, bubble gum blowing, and family lookalike contest.
Head on over to the San Diego County Fair this summer to see all the attractions, concerts and festivals the Wild West has to offer.