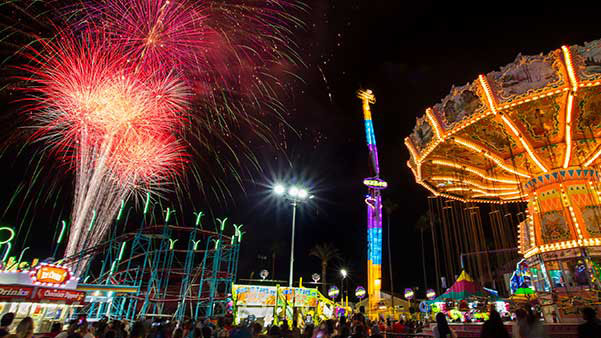 There's no place like home, there's no place like home, "There's no place like the Fair." The 2019 San Diego County Fair announced their theme for next year's fair and it's going to be "Oz-some."
San Diego County Fair invites guests to skip down the yellow brick road and enter a world inspired by L. Frank Baum's Classic Tale, "The Wonderful Wizard of Oz."
The fair will officially open to the public at 4 p.m. on May 31, 2019, and will run through July 4, 2019. As usual, it will be closed Mondays and Tuesdays except for the last week of the fair.
In addition to the theme being announced, the Toyota Summer Concert Series line up was released. Musical artists like, "You Look Like I Need A Drink" singer, Justin Moore, Grammy award winner "Smokey Robinson," Grammy-nominated, Mariachi Sol de Mexico, and popular Tejano act, Grupo Intocable will be on stage next summer.
Comedian acts this year include truTV's hit series, Impractical Jokers, three-time Grammy-nominated comedian, Jim Gaffigan and 6,000-lifetime performer, Brad Upton.
Ticket information about performances will be available soon but to see the list of performers click here.
This past summer's fair-themed "How Sweet It Is" brought a total of 1,565,933, lower than the record set in 2016 of 1,609,481, according to fair organizers. Read more about the 2018 fair by the numbers, including how many sweets were consumed.