The rape and brutal murder of an elderly woman found stabbed to death in her home in San Diego, California, 25 years ago has finally been solved, thanks to cutting-edge DNA testing.
San Diego law enforcement announced the major break Friday in the quarter-century-old cold case killing of Angela Kleinsorge, 84. Her killer was Jeffrey Falls, a man who lived across the street from the victim, according to DNA testing and investigators.
"To learn that it had been a neighbor -- it was just horrifying to us," said the victim's daughter, Hedy Kleinsorge, at a press conference Friday.
Falls is no longer alive; he was killed in a 2006 crash. However, a rare procedure known as familial DNA testing helped San Diego law enforcement zero in on him as the killer.
The cold case finally began to crack in July 2016 when this type of advanced science came into the equation, according to authorities.
At that time last summer, the San Diego Police Department (SDPD) and the San Diego District Attorney's Office submitted the cold case to the Department of Justice with a request for familial DNA testing, a process that allows investigators to widen their scope when searching offender databases.
Through the process, investigators may be able to identify people who are likely to be close relatives of a person who may have committed a crime.
The familial DNA results from this case matched a convicted offender who was dead, according to the DA's office. The results showed there was a high likelihood that a brother of that convict was the man who killed Kleinsorge.
As investigators researched this break in the case, they discovered the convict had two brothers: one who was alive, and another -- Falls, 42 -- who was killed in a 2006 motorcycle accident.
SDPD detectives were able to give the living brother a DNA test and he was eliminated as a suspect in the cold case. After that, it was time to test Falls.
The DA's office said the coroner gave tissue samples from Falls to SDPD Lab Criminalist Adam Dutra. The crime lab obtained a partial DNA profile from Falls' tissue.
At this point, the breakthrough nearly 25 years in the making unfolded.
The DA's office said Falls' DNA matched a sample collected at the scene of Kleinsorge's slaying, pointing to him as her killer.
"The likelihood ratio for kinship between the crime scene sample and Falls is in the quadrillions," San Diego County District Attorney Bonnie Dumanis said at the news conference.
Finally, the case had been solved.
The Crime:
On Feb. 29, 1992, Kleinsorge was found dead in her home at 5600 Gaines Street, near Linda Vista Road.
Hedy, who called her mother every day to check on her, had spoken to her the day before the murder. On the morning of Feb. 29, Hedy called her mother three times, but got no answer.
"She knew something was wrong," said SDPD Chief Shelley Zimmerman.
Hedy rushed over to her mother's home. Immediately, she noticed something was amiss when she saw the garage light on and the blinds shuttered.
When Hedy went inside the house, she made the grisly discovery: her mother's body lay lifeless, on the floor, beside her bed.
Kleinsorge had been sexually assaulted and stabbed several times on her neck. According to investigators, the killer entered Kleinsorge's home through a window and attacked her.
For decades, Kleinsorge's murder remained unsolved. At the time, authorities said regular DNA testing did not match anyone in a statewide offender database.
Closure for the Kleinsorge Family:
District Attorney Dumanis and SDPD Chief Zimmerman led Friday's press conference, joined by a slew of other top-level homicide investigators, cold case detectives and forensics experts.
Zimmerman praised the tireless work of cold case investigators, including now retired Reserve Detective Holly Erwin.
"This case, sat idle for over two decades. It would still be unsolved if it wasn't for the tenacious and persistent efforts of now retired detective, Holly Erwin, who became a reserve detective in order to continue working this case and also from our crime lab, Adam Dutra," said Zimmerman.
"Their relentless pursuit of justice will now allow the Kleinsorge family to close a very painful, yet important chapter in their family history," the chief continued.
Dumanis said the familial DNA testing results have brought a "measure of closure" to the Kleinsorge family. Although a rare procedure, Dumanis touted the science "as a way to propel an investigation forward and solve more crimes."
Kleinsorge's surviving daughter, Hedy, and son, Roland Kleinsorge, attended Friday's announcement.
Hedy spoke about what this means for her family, pained for so long by her mother's murder.
"When you lose a loved one to a brutal and violent act, and there's no one charged with the crime, you often wonder if the criminal wakes up in the morning, thinks that he got away with murder or if he even gives it a second thought," said Hedy. "After 25 years, we have our answer. While we have only partial closure, at least we know Mr. Falls no longer thinks he got away with the rape and murder of our mother."
She thanked law enforcement for their work, especially Det. Erwin.
"It is through her dedication to solve my mother's case that we are here today. Thank you, Holly," she added.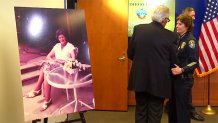 Who Was Angela Kleinsorge?
According to the police chief, Kleinsorge was born in Germany in 1907. She immigrated to the United States, where she met her husband, Paul.
The couple moved to California, started a landscaping business and raised their family in a modest home in the quiet San Diego suburb of Linda Vista. The couple lived the American Dream, and tried to give back to their community.
The Kleinsorges were founding members of the House of Germany at the International Cottages in Balboa Park.
"They took tremendous pride in their German-American heritage," the police chief said.
Paul died in 1971. Angela Kleinsorge continued to live at the family's home, where, as she grew older, she settled into a quiet life.
She had a daily routine that included waking up at 6 a.m. for coffee and breakfast, watching soap operas and working in her garden.
She was beloved by her children, family and friends.
[G] San Diego's Unsolved Cold Cases
Familial DNA Testing in California:
According to the DA's office, familial search requests filed with the California DOJ's Familial Search Committee are evaluated on a case-by-case basis following a rigorous protocol. Approval is limited to cases involving major violent crimes with serious public safety risk – and if all other investigative leads have been exhausted.
The DA's office said that since 2008, the California DOJ has received 134 cases for familial searching, conducted 172 searched and identified eight familial search hits.
The technique – described by San Diego authorities as "a frontier in the evolving world of forensice science" – was pioneered in the United Kingdom, helping with the first conviction using the technique in 2002. California was the first U.S. state to authorize the testing in 2008, followed by Colorado in 2009. It has since been used across at least eight other states, the DA's office said.
Famously, in February 2016, familial searching was used to solve the decades-old "Grim Sleeper" serial killings case out of Los Angeles. In that case, Lonnie David Franklin Jr. was charged with killing nine young women and a teenager and dumping their bodies in alleys and trash bins.
Franklin was identified as the killer when investigators matched crime scene DNA to DNA of Franklin's son, which had been collected after a felony arrest and put into an offender database.
The DNA of Franklin's son had similarities to genetic material left on the bodies of many of Franklin's victims.
Franklin was sentenced to death in August 2016. Detectives believe he could have killed as many as 25 women from the late 1970s until his arrest in 2010. This includes the 14-year stretch from 1988 to 2002 when it is believed he took a break from serial killings, earning the nickname the "Grim Sleeper."
"Familial DNA Searching represents a significant advancement in forensic investigative tools available to law enforcement," said California Attorney General Xavier Becerra in a press release Friday. "It can play a critical role in solving crimes, especially decades-old cold cases that could not be solved by the forensic techniques employed at that time. This technology goes a long way to giving victim's families the closure they deserve."