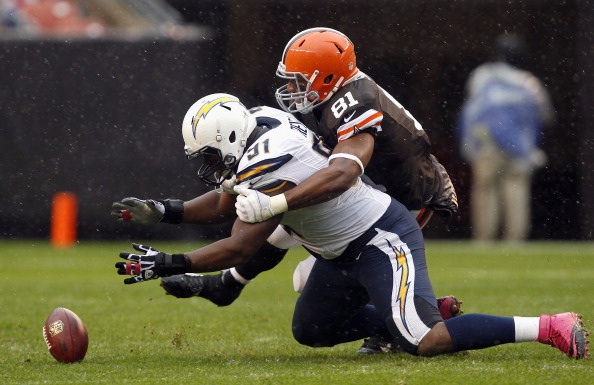 The San Diego Chargers have gone six quarters without a touchdown. Against the Cleveland Browns Sunday, the Bolts were able to get in the red zone but were still unable to score TDs.
The 7-6 loss to the Browns was the third straight loss for the 3-4 Bolts and a painful one for fans still wounded by a crushing loss to the Denver Broncos Oct. 15.
Much of the discussion after the Cleveland game centered around the offense's inability to execute.
"I thought throughout that game there were a number of times where we had opportunities to make the plays that would've made the difference," said head coach Norv Turner. "Right now where we are as a team, we're not capable of making those plays."
Wide receiver Robert Meachem let a certain touchdown pass from Philip Rivers slip through his hands in the third quarter. For those fans who want to know what happened, Meachem had this to say in the locker room, "What I could do is catch the ball for one."
"These are plays you got to make," Meachem said "You can't make excuses. You can't blame this person, that person. You got to make the play."
Chargers, just one game behind the first place Broncos in the AFC West, have just a few days to prepare for Thursday night's game against the Kansas City Chiefs.