How many San Diego athletes did you spot during the 2016 Rio Olympics Opening Ceremony? Lucky for us, many of them were posting the view from the field on social media.
Long jump athlete Mike Hartfield was a late addition to the U.S. Team, joining the competition when another athlete's injury knocked him off the roster. Hartfield soaked up the excitement of the opening ceremony Friday night. Before Rio, he spent a lot of time with the athletes and staff at the Chula Vista Olympic Training Center.
Mission Bay HS alum and Mens 800m Olympian Charles Jock posted a message to Instagram saying how grateful he was to be with other athletes who have sacrificed to get there.
SDSU's Whitney Ashley shared her excitement over seeing athletes she recognized walking alongside her during the ceremony.
John Nunn, two-time Olympian racewalker, was Facetiming with his daughter last night. He lives in Bonsall where he coaches high school track when he's not training for the Olympics.
Carlsbad HS graduate Paris Henken posed for an Instagram pic in her Team USA uniform.
Heather Miller-Koch moved to Chula Vista last year to take advantage of the Olympic Training Center for her attempt to medal in the heptathlon.
It was all smiles for Torrey Pines HS alum Jessica Javelet (Women's Rugby) as posed with other athletes.
High jumper Ricky Robertson lived and trained at the Chula Vista OTC before heading to Rio.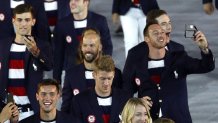 And some athletes were either traveling or preparing for competition so they missed the four-hour ceremony.