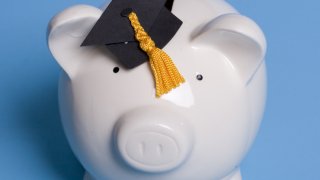 Fifteen local students with a sky-high and bright future ahead of them were awarded $53,500 in scholarships from the San Diego Air & Space Museum, it was announced Tuesday.
Graduating students from San Diego County with an interest in the science, technology, engineering and mathematics (STEM) fields were selected to receive this year's annual scholarships.
All applicants submitted an application that highlighted their academic achievements, extracurricular and community service, teacher recommendations and an essay. As they progressed in the application process, they were then interviewed by a panel of judges who selected the recipients.
"These scholarship programs exemplify our intent to aid deserving students wanting to advance their education - our entire mission is all about inspiring our next greatest generations to excel in their lives," Jim Kidrick, Museum CEO and President said in a statement.
Funds for the award are from four museum-administered scholarship endowment funds from Bill Gibbs, Convair Alumni Association, R.A. Rearwin and Jennings Kelly Scarborough.
The following students will receive this year's scholarship:
Jiayi "Gary" Wang, Rancho Bernardo High School
Samantha Tinney, Mt. Carmel High School
David "Max" Scott, University City High School
Kevin Salazar, Cathedral Catholic High School
Justin Pendarvis, Serra High School
Megha Kannan, Rancho Bernardo High School
Joshua Bay, Scripps Ranch High School
Amanda Botts, Del Norte High School
Casey Hild, Mt. Carmel High School
Samantha James, West Hills High School
Elsa Paulsen, La Costa Canyon High School
Aaron Ploneda, Gompers Preparatory Academy
James Priest, Valley Center High School
Dylan Spiker, Classical Academy, Escondido
Owen Colombo, Christian High School