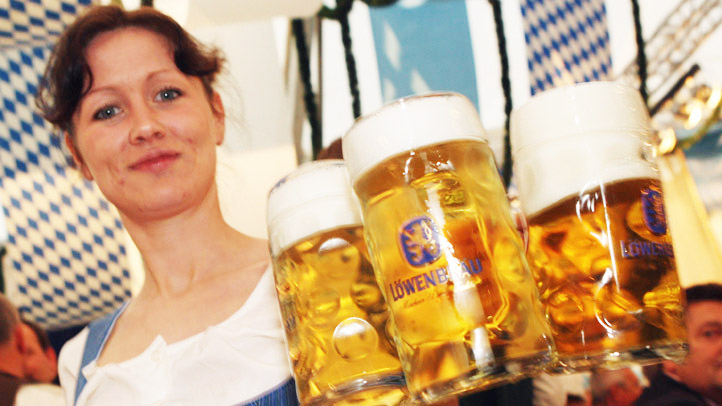 Break out the lederhosen and polka moves: it's Oktoberfest season.
In San Diego, many communities will host their own versions of the German festival that celebrates fun, food and, of course, really good beer. So, grab your stein and toast with friends in America's Finest City.

El Cajon Oktoberfest
(Dates: Oct. 2-4 and Oct. 9-11)
Oktoberfest in El Cajon is so nice, it happens twice. The first round of Oktoberfest begins this weekend (Oct. 2-4; 4 p.m. to 10 p.m. Friday; 12 p.m. to 10 p.m. Saturday; 12 p.m. to 9 p.m. Sunday) and kicks up once more the following weekend (Oct. 9-11) at the same times. Hosted by the German American Societies of San Diego, Inc., this traditional Oktoberfest takes place at 1017 S. Mollison Ave. and will feature authentic German food – think pretzels and ox-on-the-spit here – a beer garden, games and family-friendly activities. Also on the agenda: live music from the Bavarian band, Guggenbach-Buam, straight from Baden-Württemberg, Germany, performing classics like polkas, waltzes and other famous beer-drinking tunes. Admission is $5 for attendees 21 and up. Active-duty military members and anyone under 21 gets in free.

La Mesa Oktoberfest
(Dates: Oct. 2-3)
This 42nd annual Oktoberfest, happening this weekend (Oct. 2-3; 12 p.m. to 10 p.m. on both days) brings the ultimate street fair to downtown La Mesa. This year, an expected 100,000 revelers can enjoy more than 100 vendors lined along the streets selling goods or services. This party will also boast tons of German food, live music, dancing and two 21+ beer gardens, one on Palm Avenue and the other on Allison Street. Organizers say attendees can expect these brews on tap: Oktoberfest Marzen, Hef, Munich Lager and Salvator. This year, attendees can also partake in a German costume contest that will award prizes every hour from 4 p.m. to 9 p.m. on both nights. Admission is free.

Ocean Beach Oktoberfest:
(Dates: Oct. 9-10)
The annual OB Oktoberfest will bring the German festival to the beach community on Oct. 9 and Oct. 10 (4:20 p.m. to 11 p.m. Friday and 9 a.m. to 10 p.m. Saturday), taking place at Newport Avenue and Abbott Street. The beach bash includes live music, an oceanfront beer garden and fun, quirky activities and contests involving hefty cash prizes, such as the Sausage Toss competition, in which participants take turns tossing sausages into a tub in hopes of winning $10,000. There's also a bratwurst eating contest, a stein holding competition, a Ms. Oktoberfest contest and a Bavarian Beer Tasting. And, before the party even starts, there's the OB Brat Trot (Oct. 10), a 5K beach run fundraiser to benefit local youth sports. Admission is $5, good for both days.

Carlsbad Rotary Oktoberfest
(Dates: Oct. 3)
Representing for the North County, the 33rd annual Carlsbad Oktoberfest will be held Oct. 3 from 12 p.m. to 10 p.m. at Holiday Park. Admission is $3 for attendees age 10 and up. For those looking to feast, dinner tickets can be purchased for $15 at the door, which includes a meal, or $12 in advance. Entertainment includes live music and dancing, as well as a pumpkin patch and pumpkin decorating contest for kids, face painting and an antique fire truck. This year, an Oktoberfest costume contest has also been added to the activities. Parking is limited, but there's a free shuttle service to the fest picking up and dropping off attendees all day at the southwest corner parking lot of Westfield's El Plaza Camino Real.