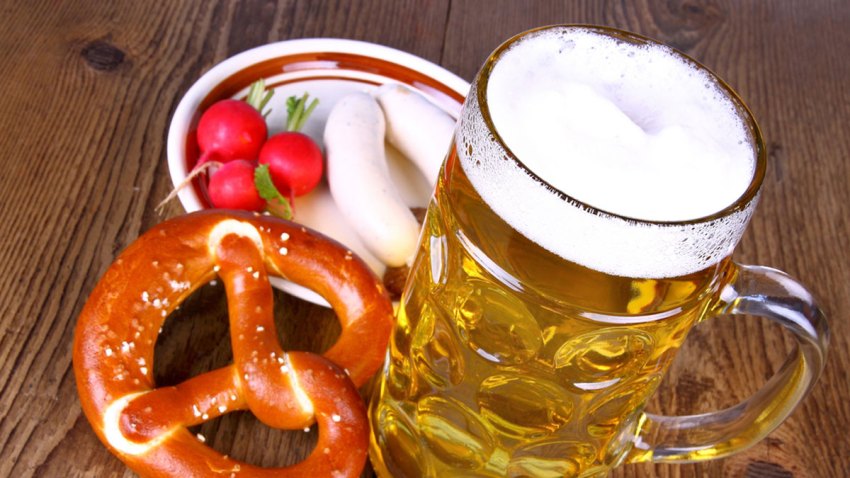 Fall is here, which means Oktoberfest follows. In San Diego, many communities will host their own versions of the German festival that celebrates fun, food and, of course, really good beer. So, grab your stein and toast with friends in America's Finest City.
El Cajon Oktoberfest:
The Oktoberfest party began in El Cajon this weekend and continues Oct. 3 through Oct. 5 on South Mollison Avenue. Attendees can enjoy authentic German food – including bratwurst, ox-on-the-spit and pretzels – as well as beer and cocktails. This event is presented by the German American Societies of San Diego, Inc., and also boasts live music from the Bavarian band, Guggenbach-Buam, straight from Baden-Württemberg, Germany. The band will play classics like polkas, waltzes and other famous beer-drinking tunes. The fest runs from 4 p.m. to 10 p.m. Friday, from 12 p.m. to 10 p.m. Saturday and from 12 p.m. to 9 p.m. Sunday.
La Mesa Oktoberfest:
The annual Oktoberfest in downtown La Mesa brings a weekend-long, family-friendly street fair to the East County community featuring more than 400 local vendors, tons of food, a beer garden and live music. The party is held between Spring Street and La Mesa Boulevard, with this year's bash happening on Oct. 3 through Oct. 5 – from 10 a.m. to 9 p.m. Friday, 10 a.m. to 11 p.m. Saturday and noon to 5 p.m. Sunday. This Oktoberfest celebration typically brings more than 186,000 revelers to La Mesa each year. Parking can be difficult, so consider parking at a nearby trolley stop such as Grossmont Center or the Lemon Grove Depot and take the Orange Line to the Spring Street Station, which is right near the fest.

Ocean Beach Oktoberfest:
The OB Oktoberfest will bring the German celebration to San Diego's beach community on Oct. 10 and Oct. 11 with live entertainment, food, crafts and a beer garden. The shindig includes lots of contests and activities: German beer tasting, a Ms. Oktoberfest competition, a stein holding event, a bratwurst eating competition and a "Sausage Toss," in which participants take turns tossing a sausage into a tub.

Carlsbad Rotary Oktoberfest:
Representing for the North County, the Carlsbad Oktoberfest will be held Oct. 4 from 12 p.m. to 10 p.m. at Holiday Park between Tamarack Avenue and Carlsbad Village Drive off Interstate 5. Admission is free and, for those looking to feast, dinner tickets can be purchased for $12 at the door, which includes a meal catered by Carlsbad's Tip Top Meats, complete with apple strudel for dessert. Entertainment includes live music and dancing ("Chicken Dance, anyone?) as well as an Oktoberfest pumpkin patch and pumpkin decorating contest for kids, face painting and an antique fire truck. Parking is limited, but there's a free shuttle service to the fest picking up and dropping off all day at the southwest corner of Westfield's Plaza Camino Real.
South Park "Parktoberfest":
The hip, Uptown community of South Park will host its first-ever free "Parktoberfest" party on Oct. 11, from 11 a.m. to 10 p.m., at the Gala Food parking lot on Grape Street. Revelers can enjoy a massive beer garden with German-style suds from local breweries like Stone and Ballast Point, as well as a family-friendly area featuring carnival acts, face painting and other fun for the kids. Local eats will include traditional Bavarian sausages, pretzels and German potato salad. A traditional polka Oktoberfest band named Papa Oom Pah Pah will headline the event and several local bands will also hit the stage.