The White House announced on Wednesday they are planning for the rollout of vaccines for young children when it is approved.  
"I have a 5-year-old and it's certainly a hot topic in our family," San Diegan Stephanie Luczynsky said.
Luczynsky said she and her husband are vaccinated but she's more hesitant about getting her daughter vaccinated immediately.
"My husband and I are both vaccinated we're certainly for it but it's just a matter of making sure it's safe for young people," Luczynsky said.
Other San Diegans had a different viewpoint on COVID-19 vaccination for young children.
"I don't have a child, but as long as there's a science to back up that it's safe is the deciding factor for me – if there isn't the data then I'd be a little concerned, but the data is there," San Diegan Adam Timmerberg said.
Some Diegans were against getting their young children vaccinated.
"Me personally in regard to that I wouldn't want to subject my son to something that hasn't had enough time and effort to know what the long-term effects are," San Diegan Tiffany Smith said.
Smith said she would need a lot more time to be willing to vaccinate her 7-year-old son.
"You know if they had 5 or 10 years of research, I'd feel way more comfortable," Smith said.
The split seen among San Diegans is reflected in a Kaiser Family Foundation poll.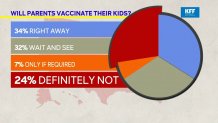 According to the Kaiser poll parents are split with 34% saying they'd vaccinate their child right away, 32% said they'd wait and see, 24% said definitely not and 7% said only if required.
The FDA Advisory Committee will meet on October 26 to review data on the safety and efficacy of COVID-19 vaccinations in young children and the CDC will meet on November 2 to review the data.