As the world continues to grapple with the coronavirus pandemic for a second year, hundreds of thousands of people continue to mourn loved ones lost to COVID-19. In San Diego County, local leaders invited residents grieving family and friends who died from the illness to honor them at a public Día de Los Muertos altar.
County Board of Supervisors Chair Nathan Fletcher, Supervisor Nora Vargas and Assemblywoman Lorena Gonzalez hosted a COVID-19 Altar de Muertos near the County Administration Center. San Diegans were welcome to submit images of their loved ones to place them on the altar.
Día de Muertos
More on the fall holiday.
"One of the things about Día de Muertos in our community is it's a day of celebration," Supervisor Vargas told NBC 7 Monday morning. "It's a day of remembering family, who we love and those who we care for so what we want to do today is honor them."
The event comes as the county's COVID-19 death toll passes 4,000 deaths since the beginning of the pandemic.
Last year, the county leaders held their first COVID-19 Day of the Dead event. Participating San Diegans of the somber celebration reflected on memories and special times with their deceased family and friends.
"I wish that she could be here to celebrate other people as opposed to me having to celebrate without her," Treasure Felder said of her mother at last year's event.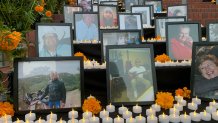 Several other Día de Los Muertos celebrations were held in the county, most recently in City Heights and Solana Beach.
A public alter event in Logan Heights Monday also featured a COVID-19 vaccination clinic. Artist and organizer Tatiana Rubio Ortiz said it was important for her to give back.
"I wanted to give something back. I'm an artist and I'm a mom of a special needs child who is high risk and I couldn't volunteer during the lockdown. I wanted to give something back and this is my way," Ortiz said.
Jose Sanchez took advantage of the vaccine clinic while he visited the alters. He said his wife contracted COVID-19 and is still dealing with long-term side effects.
"We know we're not alone, we know there's a community out there that continues to struggle as a result of getting COVID," Sanchez said.
The event at Bread and Salt in Logan Heights will continue Tuesday, but the vaccine clinic will not be operating.