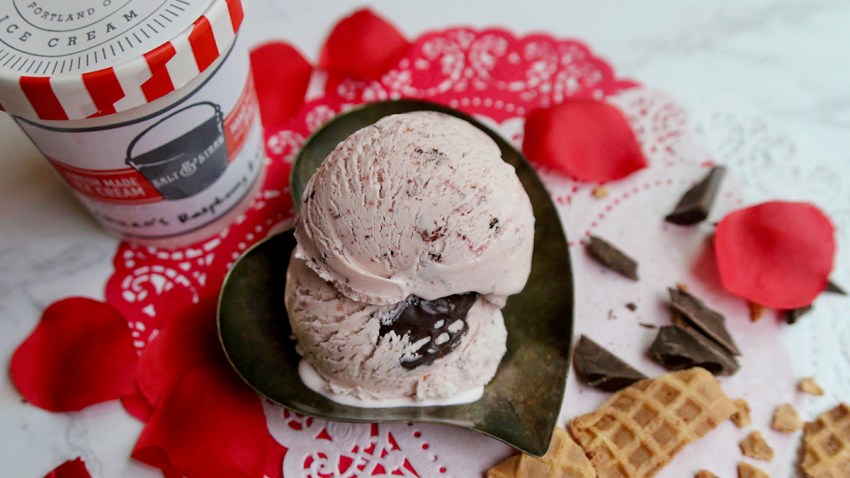 Salt & Straw Ice Cream – the sweet Portland transplant that set up shop in Little Italy two months ago – has tapped local chocolatiers to help create new flavors being scooped this month.
Each month, the cult favorite ice cream shop whips up a series of five new limited edition flavors. For February, with sweets and sweethearts in mind, Salt & Straw is serving its "Chocolatiers Series" featuring flavors created using ingredients from Southern California-based confectioners.
Two of the decadent ice cream flavors were inspired by businesses in San Diego County: Chuao's Raspberry Rose Chocolate – a collaborative effort with Carlsbad-based Chuao Chocolatier – and Nibble's 85% Peruvian Chocolate Sorbet, a flavor created with the help of Nibble Chocolate near Old Town San Diego.
Chuao's Raspberry Rose Chocolate combines Chuao chocolate with chocolate stracciatella, freeze-dried raspberries and rose petals soaked in simple syrup, added to Salt & Straw chocolate ice cream.
Nibble's 85% Peruvian Chocolate Sorbet boasts Nibble's two-ingredient chocolate made of cocoa beans and sugar. Salt & Straw created a vegan chocolate ice cream to mix with this, created by melting Nibble's 85% cacao Peruvian chocolate bar into sugar, water and a little coconut cream. The result, according to the ice cream shop, is a dark, slightly bitter sorbet.
The three other flavors in the Chocolatiers Series were inspired by Los Angeles-based confectioners Compartés and Milla, and Bar Au Chocolat, of Manhattan Beach:
Compartés Chocolate's Coney Island (tri-colored rainbow "paint" in vanilla ice cream, with pieces of waffle cone and pieces of Compartés chocolate bar)
Bar Au Chocolat's Poire Belle Helene (chocolate fudge, pears candied in sugar and lemon peel, toasted almonds and vanilla ice cream)
Milla's Chocolate Hazelnut Praline (hazelnut ice cream with shards of chocolate, swirled in homemade hazelnut praline fudge, inspired by rich, textured flavors of Milla's Hazelnut Praline Bar)
The flavors are available at Salt & Straw's Little Italy location at 1670 India St. through March 1.
Salt & Straw, which opened in San Diego in late December, is a family-run ice cream company known for its handcrafted, small-batch scoops, in interesting, gourmet flavors. The recipes are made with all-natural cream from Scott Brothers Dairy in Chino, California, churned in small five to 10-gallon batches.
The menu also features seasonal flavors, which rotate monthly, created with locally-sourced ingredients.
To that end, the new San Diego scoop shop includes flavors influenced by local artisans including Belching Beaver Brewery.
San Diego-centric creations include "Avocado & Oaxacan Chocolate Fudge," rich, creamy avocado ice cream featuring ribbons of Oaxacan chocolate fudge from La Guelaguetza Restaurant.
There's also the "Peanut Butter Stout With Chocolate Chicharron," a crafty collaboration with Belching Beaver Brewery featuring the brewery's Peanut Butter Milk Stout. The beer is poured into cream steeped with the same malts used to brew the stout. Pieces of dark chocolate caramelized pork chicharron are mixed in for a malty, salty, peanut butter-rich ice cream.
Other flavors on the San Diego menu include "Roasted Berries & Toasted White Chocolate," "Salted, Malted Chocolate Chip Cookie Dough" and "Double-Fold Vanilla," to name a few.
The India Street location is open daily from 11 a.m. to 11 p.m. Much like the flagship Portland location, patrons should expect long lines -- with a sweet reward at the end.
Salt & Straw was founded in Portland by cousins Kim and Tyler Malek, getting its start in 2011 as a red-and-white striped ice cream cart. Today, Salt & Straw operates scoop shops in Portland, Los Angeles, San Francisco, Seattle and San Diego.