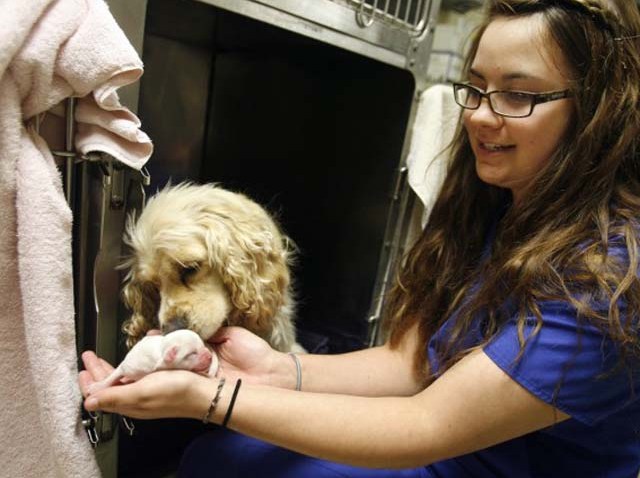 "She could tell she was missing a puppy," Humane Society Spokeswoman Abigail Kouzi told the paper.
The kennel the family of dogs was staying in had a drain in the floor. Kouzi told the paper that the drain makes it easy for staff to clean it by washing out the whole kennel. Five hours after the cocker spaniel gave birth, medical staff noticed only five pups and the kennel's drain, which appeared to have been moved by the mother dog.
"She put her ear down to the drain and heard faint whimpering," Kouzi told the paper.
The rescue of pup took about an hour. The hero: a local plumber and his jackhammer. According to the paper, he had to remove drywall, jackhammer through concrete and cut the pipe to get the little dog who was two feet below ground.
Kouzi told the paper the nervous mother dog had been moved to another area where she paced the entire hour.
Loud cheers were heard when the plumber tipped a length of disinterred drainage pipe into a staff member's palm, and out slid the six-hour-old pup, Kouzi told the paper.
"At first when I got there, I was like, 'I don't know if I'm going to be able to save this dog," Huff told the paper. "But he hung on. He was crying the whole time, so I knew he was alive."
The pup then took on a new name: Drano.