The San Diego Sheriff's Department (SDSO) is asking for help to locate a suspect in a case of identity theft on Halloween.
A young man wearing a dark hooded sweatshirt and Chuck Taylor tennis shoes used a stolen credit card to purchase food, electronics and other high-priced items at Santee businesses on October 31, the sheriff's department said.
San Diego County Crimestoppers is offering a $1,000 reward for anyone with information about the suspect that leads to an arrest.
On his shopping spree, the man hit a Walmart at Parkway Plaza, a Target at 250 Broadway, and a 7-Eleven convenience store at 375 W. Madison Avenue. About $800 worth of stolen goods was charged to the card that did not belong to him, SDSO said.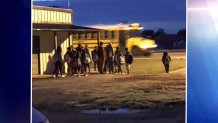 The suspect is believed to be between the ages of 25- and 35-years-old. He was last seen wearing a blue or black hooded sweatshirt, a black fitted hat, black pants and Chuck Taylors. He also had a black and white lanyard draped around his neck.
Detectives said the man is known to frequent the Santee area, sometimes on a skateboard, and usually purchases Bugler brand tobacco and rolling papers.
Anyone with information should call the SDSO's Santee substation at (619) 956-4000 or San Diego County Crime Stoppers anonymous tip line at (888) 580-8477. Anonymous tips can also be made online at sdcrimestoppers.org.