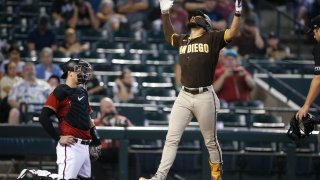 Without Fernando Tatis Jr. the Padres lost four straight games to last-place teams and got no-hit by a 27-year-old rookie making his first big league start.
With Fernando Tatis Jr. the Padres are a legitimate playoff contender.
El Nino returned from the Injured List on Sunday, playing right field in Arizona, and gave the Friars the jolt they needed with two homers, a double, and backbreaking 2-run single in the 8th inning to spark an 8-2 win. The Padres avoid being swept by the team with the worst record in baseball.
Tatis had no issues in right field (every ball hit his way was a lazy fly or a line drive down the line that merely required gathering and throwing to the infield). He definitely didn't have any trouble with the bat.
A night after the Friars couldn't muster a hit in 106 pitches, Tatis doubled on the 4th pitch of the game against Diamondbacks starter Zac Gallen. He chased that with a solo homer in the 3rd inning, a solo homer in the 5th inning, and a bases loaded seed into centerfield in the 8th that, at the time, put San Diego on top 6-2.
The Friars got two more runs in the inning on a bases loaded walk and a wild pitch. Jake Cronenworth added a 2-run homer and drove in three runs.
With that kind of offensive performance the scheduled bullpen day was not a concern. Criag Stammen started and went 2.0 shutout innings. Reiss Knehr followed with 2.0 innings and one run allowed. Pierce Johnson gave up a solo homer in his one inning of work then Tim Hill, Daniel Hudson, Emilio Pagan and Austin Adams all tossed a single shutout frame.
The Padres start a 3-game set in Colorado on Monday night but they'll do it without Yu Darvish. The Opening Day starter was placed on the 10-day Injured List with the lower back tightness that's plagued him since early July.
LISTEN: With NBC 7 San Diego's Darnay Tripp and Derek Togerson behind the mic, On Friar will cover all things San Diego Padres. Interviews, analysis, behind-the-scenes...the ups, downs, and everything in between. Tap here to find On Friar wherever you listen to podcasts.