More than 500 people gathered for a healthcare town hall at the Brengle Terrace Park Recreation Center in Vista Tuesday night.
U.S. Rep. Darrell Issa (R) 49th District is back in San Diego County on recess--the first recess since Inauguration Day.
He was invited to the town hall but declined.
Before a packed assembly, residents of the 49th District shared their stories about personal healthcare struggles. The crowd was so large, some people waited outside the center for their turn.
"I don't have cash. What am I going to do?" one unemployed woman asked.
"I know what it is like sitting in a hospital and wondering how this stuff is going to get paid for," another frustrated Vista resident said.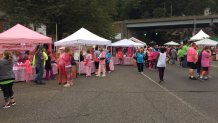 The residents criticized any plan to dissolve Obamacare, also known as the Affordable Care Act, and the latest immigration order.
President Donald Trump campaigned on a platform to repeal or replace the healthcare act. Congressional Republicans have maintained they plan to rewrite or replace the legislation.
On both issues, Issa has sided with the president.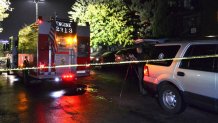 Tuesday night, he was attending "Solutions for Change" event, just 10 miles away from the location of the town hall. The program helps homeless families get back on their feet.
Issa did speak with more than 200 supporters and critics Tuesday morning outside of his office.
He is also crafting a healthcare plan.
"There are over 250 plans and there could be more. They could bid smaller plans," Issa said.
Issa also supported the president's latest initiative to deport undocumented immigrants who have committed crimes.
"You can not look at an illegal and say because they have a wife or a child they shouldn't be deported, especially if they've committed crimes. I think we can all agree on that," he said.