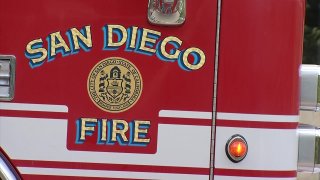 About 70 people were evacuated from their homes Friday when an electrical fire sparked at a two-story apartment complex in San Diego's Grantville area.
San Diego Fire-Rescue Department Battalion Chief Dennis Clay said the blaze sparked along lines powering the complex located at 6250 Holabird St. just before 9:30 a.m.
Although the electrical fire was mainly impacting two units, Clay said firefighters and police evacuated the entire apartment complex, just in case. The battalion chief counted about 70 evacuees, as many residents were home on yet another day of the coronavirus stay at home orders.
Since it was pouring outside, officers called for two city buses to help house the evacuees, but they didn't end up needing them. Clay said most evacuees were eventually able to return home, while those who remained displaced would be able to get help from the Red Cross.
Fire crews called San Diego Gas & Electric so the utility company could shut off electricity to the apartment complex.
Clay said firefighters were able to contain the fire to two units -- one on the first floor and one directly above, on the second floor -- but the fire kept reigniting because it was running close to electrical wires inside the walls.
He said it destroyed an electrical panel, completely melting all of its components.
The downpour was a safety challenge, Clay said, since water and electricity don't play well together.
"Today, with the rain and electricity, it creates a further hazard, an electrocution hazard," he explained. "So we had to be careful of that; make sure we weren't touching wires that were energized. It was a lot of rain, a lot of water."
Another challenge, the battalion chief said, was properly evacuating all of the residents while still following current social distancing practices.
For a bit, residents went from staying at home to being together outside, although Clay said they kept a safe distance from one another. Most residents were also wearing face masks.
Crews were eventually able to knock out the fire. Clay said firefighters remained at the scene to monitor hot spots and make sure the fire didn't flare back up in the walls of the complex, near more electrical wiring.
The battalion chief said that while the apartments suffered some damage, they were not destroyed.
NBC 7 spoke to a resident, Brian, who lives in the downstairs unit impacted by the fire. He said he woke up to the smell of smoke and loud noises that sounded "like the garbage disposal" coming from some sort of transformer.
Brian said his apartment began to fill with smoke.
"It was so hazy in there," he explained.
He and his roommates evacuated and Brian said they were told they won't be able to return home right now due to the damage to the apartment. It was a hard thing to hear in the middle of the stress of the coronavirus pandemic, he said.
Brian said he and his roommates are all healthy and will be staying with some friends, for now. He told NBC 7 he was worried about the displaced family who lives in the upstairs unit, and where they would end up staying.
"I hope they're going to be OK," he added.
The fire is under investigation, but officials believe it sparked from an electrical short. No one was hurt.