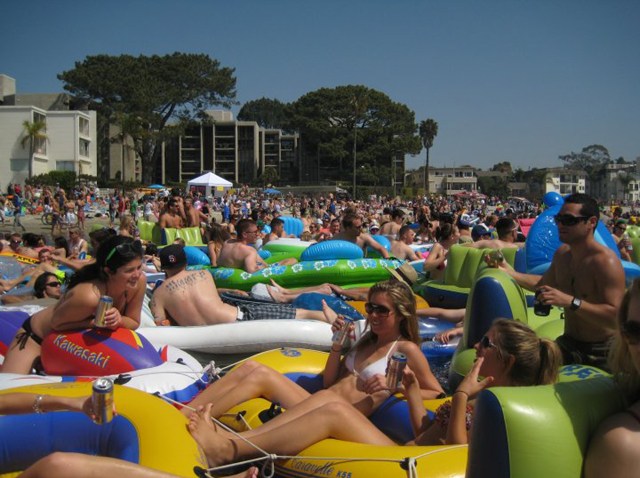 It was part protest, but mostly party.
At least 4,000 people turned out for Floatopia, drinking alcohol on rafts while drifting away from shore.
"You can consume alcohol on the water as long as your feet aren't touching the sand," Lt. James Filley said.
The party wasn't without some trouble.
12 people had to be rescued and two were taken to the hospital, lifeguards said. Police said 30 citations were issued and two people were taken to jail for public intoxication.
The Floatopia party started after alcohol was banned from city beaches. But some critics say it's actually causing more problems.
"I think it's ridiculous we make them drink in the water so they can drown, instead of just letting them drink on the beach," one beachgoer said.
The other problem is what's left behind. City crews clean up whatever trash never makes it to the bins and the taxpayer tab does not end there. Police were added and 18 lifeguards were called in to patrol an area that would otherwise have none.
"It's challenging to police and lifeguard, but we're doing the best we can," Lt. James Filley said. "It's our job to make sure everybody plays nice, and goes home safely."
Critics of such events are concerned about safety issues -- people have been spotted leaving the water, getting into their cars and driving away; also, inebriated persons stuck in the middle of large groups of rafts could fall into the water, rendering rescue difficult, if not impossible for lifeguards.
Last fall, more than 1,000 people crowded onto Sail Bay for a similar event. Police said afterward that they arrested several people and issued 50 citations.
Voters approved the beach booze ban in November 2008, making a one-year temporary ban permanent on all city beaches. The measure made it illegal to consume alcohol at all city beaches, Mission Bay Park and other coastal recreation areas. Last year, the City Council approved a measure making the ban permanent.