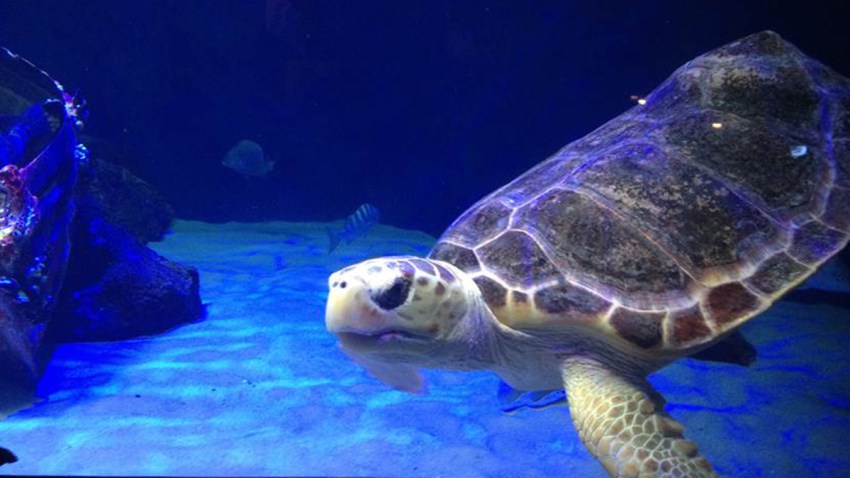 An injured sea turtle rescued on the East Coast received a happy ending, thanks to Birch Aquarium at Scripps.
The juvenile loggerhead sea turtle came to the aquarium on Nov. 19 after being rescued from a power plant's cooling canal in New Jersey. Starting Tuesday, the 97-pound turtle is available for viewing at the aquarium.
The turtle's story of survival is as heartwarming as his injuries were serious.
The turtle suffered congenital defects, including scoliosis and flipper paralysis. Veterinary experts at the South Carolina Aquarium Sea Turtle Rescue Program, where the turtle was initially taken in, thought the animal wouldn't be able to live on its own in the wild.
Seeking a permanent home for the turtle, the aquarium reached out to the Association of Zoos and Aquariums.
It was the Birch Aquarium in La Jolla that volunteered to be the turtle's new home and raised $50,000 for the rehabilitation of the turtle over the next year.
"This turtle has already been through so much in its short life," said Jenn Nero Moffatt, the aquarium's director of husbandry. "We look forward to giving it a comfortable and happy home and sharing the story with San Diego's residents and visitors of not only this turtle, but all sea turtles."
Visitors can see the turtle between 9 a.m. and 5 p.m. daily at the aquarium. Admission costs $17 for adults, $13 for seniors, $14 for teens and $12.50 for children.