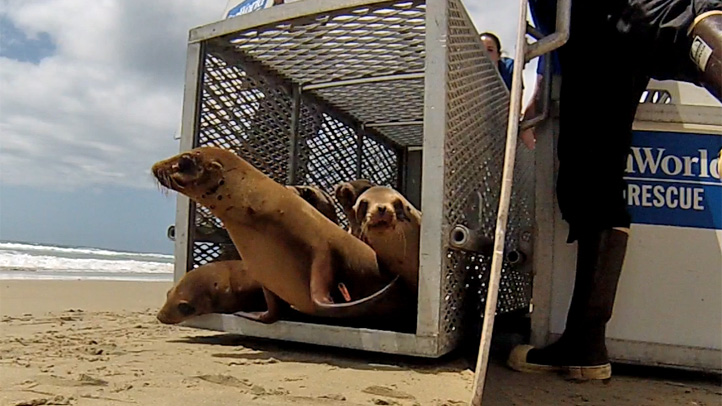 Rescuers from SeaWorld released nine sea lion pups back into the wild Tuesday.
The release took place at Border Field State Park Beach. The pups peered out their cage before barreling toward the ocean.
The pups were rescued from La Jolla, Del Mar and Oceanside between March 1 and March 28, according to SeaWorld.
"They were thin, emaciated, dehydrated and needed some help," said Heather Ruce, Rescue Animal Care Specialist with SeaWorld.
Ruce says the pups doubled in weight from the time they arrived until now.
Stranded sea lion and seal pups have been a big problem in Southern California this year; more than 1,100 have washed ashore. Last month, the National Oceanic and Atmospheric Association declared an Unusual Mortality Event. Scientists are still unsure what's behind it.
But Ruce says SeaWorld is starting to see a decrease.
"Now we are rescuing 2-4 animals a day, whereas several weeks ago we were rescuing 10-12 animals every single day," she said.
SeaWorld has rescued more than 335 marine mammals so far this year. That's compared to 135 in all of 2012, according to officials.