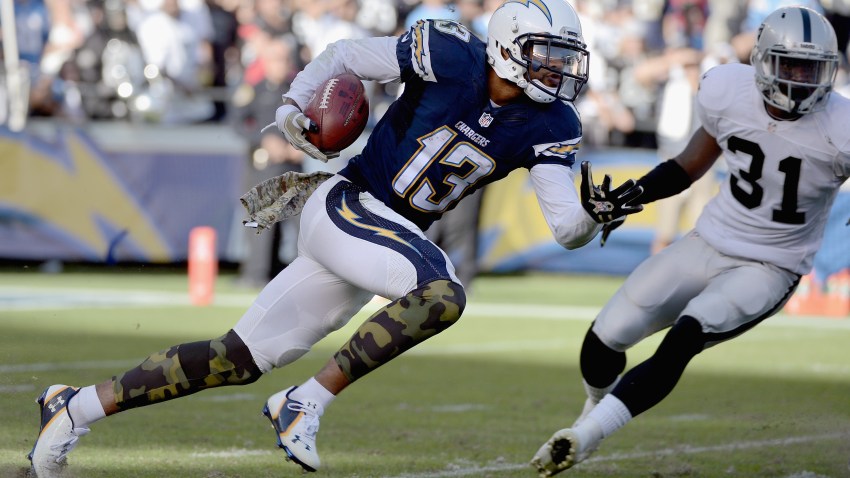 The St. Louis Rams defense makes life miserable for opposing quarterbacks. At least, that's what everyone seems to think.
A glance at the numbers reveals the Rams only have 19 QB sacks this season (23rd in the NFL). That's not what one would consider a terrifying front seven. But, when you look inside those numbers you see St. Louis is conducting some paranormal activity.
Of those 19 sacks, 18 have come in the last five games. I'm not sure which is more amazing; that this unit has averaged nearly four sacks a game against the likes of Russell Wilson, Colin Kaepernick (whom they got eight times), Carson Palmer (whom they knocked out for the season with a torn ACL), Alex Smith and Peyton Manning ... or that this unit only had one sack total against the likes of Matt Cassel, Josh McCown, Tony Romo and Nick Foles.
St. Louis can't figure out what kind of team it is. One week they'll look like a Super Bowl contender, like they did a week ago in beating the Broncos 22-7. The next week they'll look like a team lucky to win four games, like they did in losing to the Chiefs 34-7 at the end of October.
Their last six games have been Loss, Win, Loss, Win, Loss, Win. If that pattern holds true the Chargers got a gift from the schedule makers. But, to make that pattern perpetuate, the Bolts will have to keep the Rams rushers away from Philip Rivers.
Only five St. Louis defensive players have more than one sack this season, led by Robert Quinn's 6.0. Rookie Aaron Donald is next with 4.0, while Eugene Sims, William Hayes and James Laurinaitis all have 2.0.
That's four defensive linemen and one linebacker who have done the bulk of the QB smashing. That's going to be a problem for the Chargers and their underwhelming offensive line. Any time a team can generate pressure from its 4-man rush, something this Rams group excels at, it's going to cause issues.
The Chargers, especially, want to force opposing defenses to bring extra attackers. Through the season's first 10 games, Philip Rivers has the highest QB rating in the NFL while being blitzed. the man sniffs out blitzes like a bloodhound because, when a team blitzes, it's leaving someone momentarily open. Rivers and his encyclopedic knowledge of football knows exactly where that person will be and finds him more often than not.
But, when the defensive front is able to hurry a quarterback without extra help, everyone is accounted for. The offense has to rely on bad coverage or a receiver getting open on his own. That makes things exponentially more difficult, that's why this match up is so potentially tough for the Bolts, and that brings us to our three players to watch on Sunday:
Chris Watt, C
At Notre Dame, Watt started 37 career games, all of them at left guard. So, of course his first NFL start comes at center. Rich Ohrnberger is listed as questionable with ankle and back injuries, but since the Chargers signed Ryan Miller off the practice squad on Saturday it would appear Ohrnberger is not going to be active. That moves Watt to the middle of the line, a spot where the Rams use Laurinaitis and Donald to get a push through the A-Gap (between the center and guard), the spot where quarterbacks thoroughly despise getting pushed. Watt will have to not only help make the line calls and get everyone working in the same direction, he'll have to worry about keeping those big guys from breaking through and getting clean shots on an already dinged up Rivers.
Keenan Allen, WR
One of Allen's greatest assets is his ability to get open quickly. St. Louis plays all kinds of coverages. They'll go man for a while, then zone, sometimes flip-flopping between the two within a single series. Allen is going to have to use his abundant skill set to get open against the ever-changing looks as fast as he possibly can, because odds are Rivers won't have much time to let Keenan work to get open. Rivers said during the week we could see another eight or nine catch game from Allen coming soon. If this is the week it happens, it's probably a good sign that Philip is staying upright and Keenan is winning on the outside, and that could very well be the difference between a win and a loss.
Jerry Attaochu, OLB
If there's a saving grace for the Chargers against what I've now talked myself in to believing is the second coming of the 1985 Bears, it's this: The Rams offense is not very good. While Shaun Hill and Austin Davis have both had nice moments at quarterback, neither has established himself as the starter and head coach Jeff Fisher has tried to play the hot hand. Attaochu returned from his hamstring injury and looked like the Tasmanian Devil against the Raiders. Attaochu had a sack, another QB hit and a tackle for a loss, showing an explosion off the edge that can put offensive tackles on edge. Rams quarterbacks have been sacked 33 times this season (only the Jaguars have allowed more sacks). The Chargers defense needs to match the Rams in getting after the QB, or it's going to be a long day in Mission Valley.
Derek's Prediction
I honestly have no clue what to expect from St. Louis. They could win by 20 or lose by 20, and either way it would in no way be surprising. In this particular case, it's not going to be a blowout. But, it will be another St. Louis loss.
Rivers will find a way to make just enough plays in the passing game, and get a big boost from Ryan Mathews running the ball well. The San Diego defense will force a couple of turnovers and get points on short fields. Just like last week against Oakland, this will not be pretty.
But, it will be 7-4.
Final score: Chargers 16, Rams 13