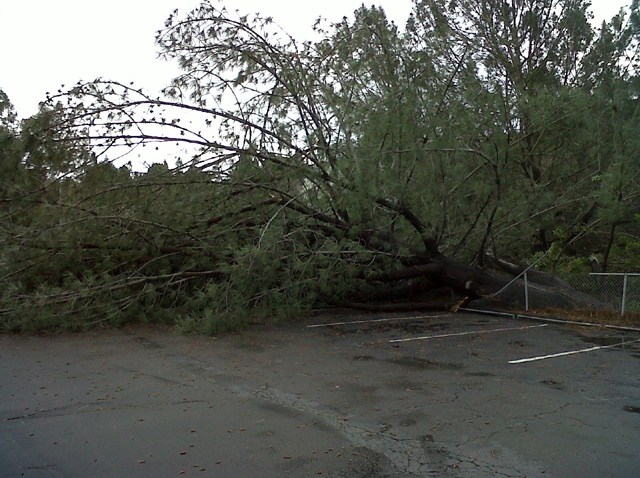 A weekend-long Alaskan storm arrived in San Diego on Friday, and its heavy rain and wind didn't hesitate to cause a wake of disturbance across the county.
---
Track the Storm on This Live Interactive Radar
---
Come Saturday morning, the Coronado Bay Bridge had issued a wind warning, a series of roads had been reported flooded, and high winds had toppled multiple trees.
The wind warning for the Coronado bridge was issued at 6:46 a.m. Saturday due to strong gusts that could endanger commuters.
In University City, a tree was downed at 6900 Genessee. It crushed a metal fence and blocked the student entrance to University City High School. The parking lot was empty at the time.
High winds blew over another tree in Del Mar on Friday night at 701 Crest Rd. on the 14000 block of Crest Way. A large chunk of pine tree felt onto nearby cable and phones, and the San Diego Fire Department arrived on scene to evaulate the rest of the tree still in tact.
Multiple roads across the county have been closed due to flooding.
In Fashion Valley, Avenida del Rio, behind the Fashion Valley parking structures off Camino de la Reina, is inaccessible. On northbound Interstate 15, the Carmel Mountain Rd. on-ramp was closed. Two lanes of Mission Center Road in Mission Valley have also been shut down.
The National Weather Service has issued gale wind warnings from San Mateo to Tijuana. San Diego lifeguards are at Alert 3 status, posting a precautionary river rescue in South Bay in the Tijuana River Valley.
Qualcomm Stadum is hosting a Supercross event Saturday at 7 p.m. Crews used a tarp to cover the track and protect it from the rain overnight. Event officials said the event will proceed as scheduled. Gates open at 12:30 p.m.
The low-pressure system is bringing plenty of rain, strong winds, and heavy snow to the mountains. Heavy precipitation first hit the North County Friday at about 2:30 p.m., and a brunt of the storm moved in from the coast just in time to complicate the workday commute.
Very strong currents and dangerous swimming conditions are expected Saturday. Surf height is projected to stand at 4 to 6 feet.
The storm has tempered a bit through the morning, but San Diego will not be out of the clear through the weekend.
In the mountains, a winter-weather advisory has been issued through Sunday.
Above 3,000-feet altitude, heavy overnight snowfall is expected and could equate 6 inches or more at the highest elevations. Blizzard-like conditions could very well continue off-and-on through much of Saturday.
A high wind watch took effect Friday afternoon, a flash flood watch kicked in Friday night.
The snow is welcome by area ski resorts hoping for a busy President's Day weekend.

On Thursday, a very high tide passed with no problems reported along the coast.
The National Weather Service had warned of possible minor coastal flooding because a strong low-pressure system in the Eastern Pacific generated a large northwest swell that reached coastal waters.
Even though parts of the state saw high tides of 6 feet or greater, low-lying coastal communities reported no difficulties.
California and Nevada water officials are welcoming the storms, noting Sierra runoff provides much of the water for homes, farms and businesses in the states.
The storms have pushed water content in the Lake Tahoe basin's snowpack up to 127 percent of average for the date. That figure for Tahoe had been more than 200 percent of normal for the date after an unusually snowy December and November, but dropped after a dry January.
Check back later on this developing story.
Copyright AP - Associated Press