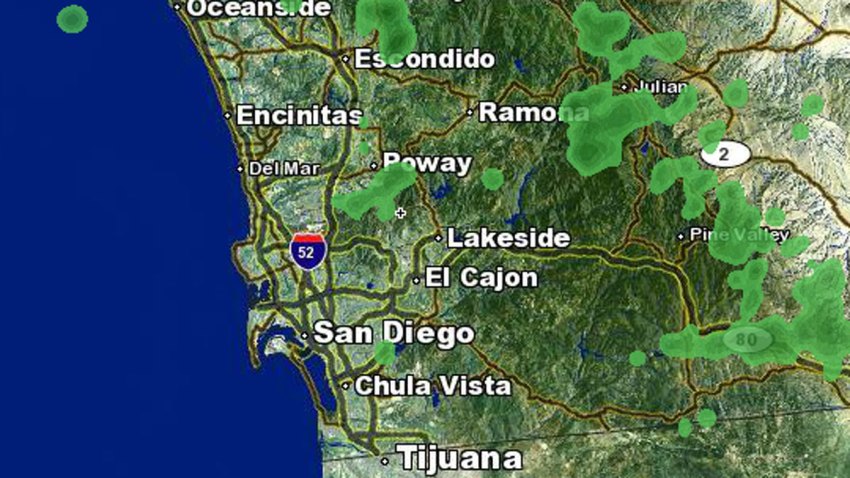 Rain covered San Diego County Thursday bringing cool temperatures and a pockets of rain across the region's roads during the morning commute.
The scattered showers were light for the most part but there was also the potential for an isolated intense downpour according to NBC 7 Meteorologist Jodi Kodesh.
"Our potential for rain, we have it already, will continue all day today," said Kodesh.
The storm is dropping heavier amounts of rain as it approaches the foothills.
Over the next 48 hours, our coastline and valleys could see over a half an inch of rain. We could see up to two inches in our local mountains and foothills. Deserts may get a quarter of an inch, according to Kodesh.
The rain-slicked roads presented dangerous conditions for drivers heading in to work early.
In Del Mar, no one was injured when four cars crashed at 5 a.m. along northbound Interstate 5 near Via de la Valle.
Driver Ben Hertel said the car he was traveling in was hit from behind and spun around.
"We spun into the guardrail on the inside and then came all the way across the freeway collecting a couple of other cars and going off the bank," he said.
Their car fell about 150 feet down the embankment and landed in water. Hertel said the water was about knee-deep and the car doors opened just fine so they were able to get out.
Crews were working to remove two cars from that embankment.
The National Weather Service has issued a winter storm warning for Riverside County beginning 4 p.m Thursday through 10 p.m. Saturday for areas above the 5000-foot level including areas like Lake Arrowhead and Big Bear.
Though much of the momentum of the storm moves over our mountains and deserts, there is enough instability to create a thunderstorm in San Diego Friday and Saturday.
The start to next week will bring sunshine and warmer weather, Kodesh said.
More NBC 7 Stories: